Apple launches iPhone 6s & 6s Plus in Pakistan
Finally the wait is over as Apple launches iPhone 6s & 6s Plus in Pakistan at Future Tech. Advance Telecom is the official distributor of the new iphone 6s & 6s Plus. In addition to this Advance Telecom is also giving incentives to the first 500 customers on purchase through its interesting gifts. The launch ceremony was held on 13th of November 2015 in five Future Tech and eight Advance Telecom retail stores in different cities across Pakistan.  The launch ceremony took place in Karachi, Lahore, Islamabad, Faisalabad & Gujranwala.
The new iPhones 6s & 6s Plus have identical overall dimensions of the previous version i.e iPhone 6 & 6Plus. The new iPhones contain a key feature called "3D touch" which responds to pressure exerted on the screen to allow users to "peek" or have a quick look inside messages and applications.
The new iPhone 6s comes with a 4.7 inch Retina HD display with 3D Touch. A 5MP Face Time HD & 12 MP iSight cameras. The phone possesses a powerful A9 chip with M9 coprocessor, ultrafast wireless2 & 802.11ac Wi‑Fi with MIMO. The phone also comes with Touch ID fingerprint sensor. iPhone 6s is available in Silver, Gold, Space Grey & Rose Gold colors and it costs Rs. 79,999/-, 96,499/- and 108,999/- for 16GB, 64GB and 128GB respectively.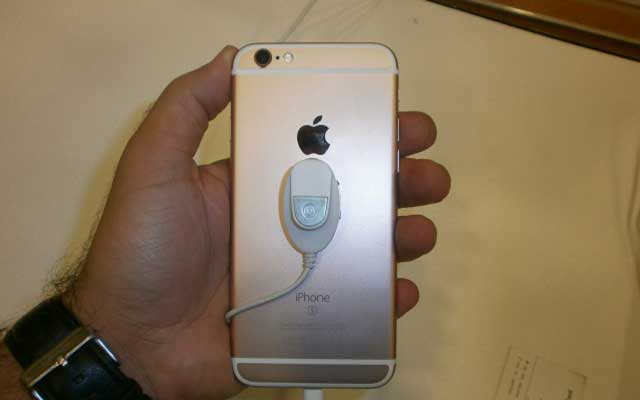 While the iPhone 6s Plus have the same specifications as iPhone 6s except display and prices. The iPhone 6s Plus comes with a 5.5 inch Retina HD Display whereas its priced at Rs. 96,499/-, 108,999/- and 121,499/- for 16GB, 64GB and 128GB variants.
The events were according to the expectations and the people were excited over the official presence of Apple's products, sales and after sales service in Pakistan. The launch ceremony was an open event for everyone and a large number people from every field and background attended the event.
Actress Noor and Amna Ilyas were also part of the launch ceremony along with many other celebrities and technology enthusiasts alike. Noor really liked the new flagship devices iPhone 6s & 6s Plus and was quite interested in the specifications of the new iPhone.
Singer Hamza Tanveer along with his band from Nescafe Basement amused people with his live songs. Besides iPhone 6s & 6s Plus other Apple's devices like iPhone 6 & 6 Plus, iPad Air, iPad Air 2, iPad mini 2 & 3, MacBook & MacBook Air along with Apple's accessories for its different gadgets  were also displayed.