12 Best Free Offline Dictionary Apps For Android in 2020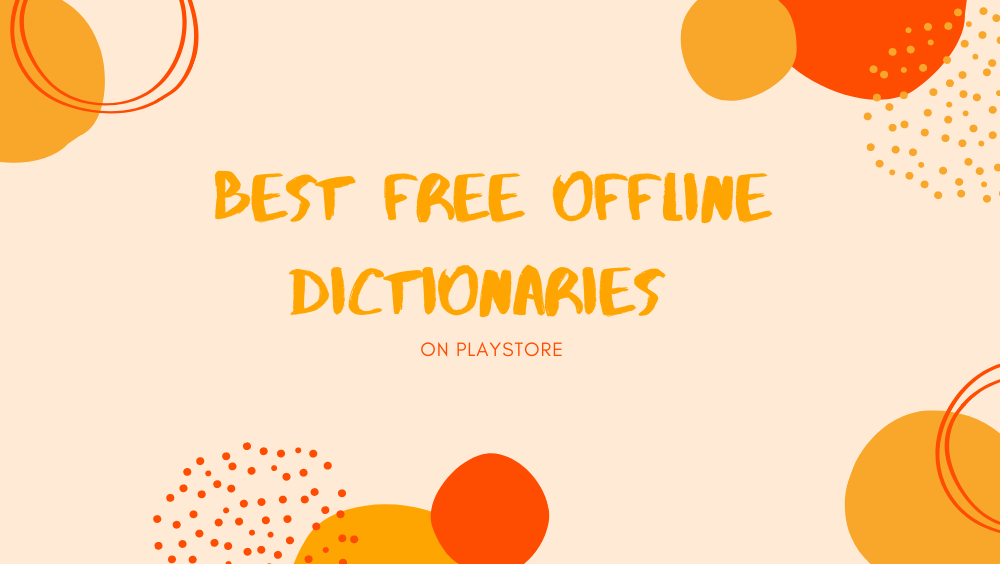 Languages are what connect humans in a knot from different cultures, backgrounds and religions. Learning new languages is the best therapy to keep your mind healthy and working. If you are learning a new language here are the 12 best, free, offline dictionaries available for multiple languages on Google PlayStore.
1.Almaany.com Arabic Dictionary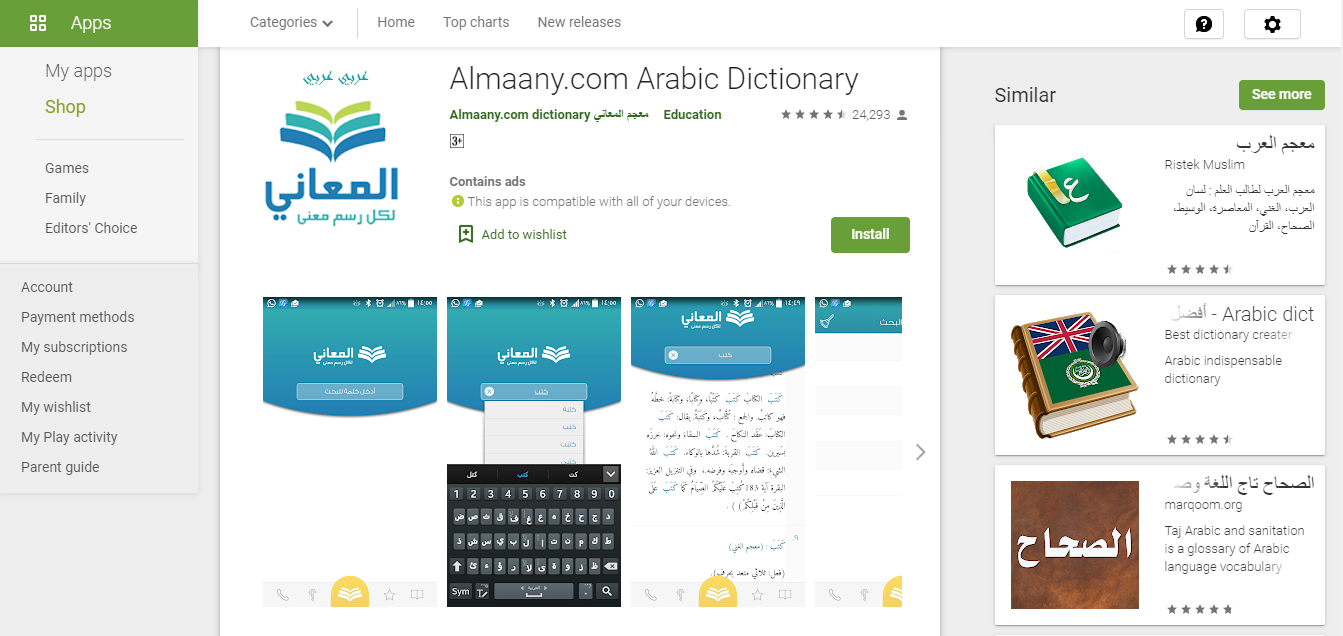 Almaany is the best, free, offline Dictionary For the Arabic Language. It has an infinite word collection, specifies root words, similar phrases, the form of verbs and much more. However, it is a dictionary and not a translator thus deals in word meanings only. Almaany is considered to be the best Arabic dictionary for iOs and Android.
Download Here
2. Offline Thesaurus Dictionary
It is indeed the best, free, offline Dictionary For the English Language. There is a very tough competition between dictionaries for the English language available but I find this offline English dictionary and thesaurus to be the most versatile and helpful.
Download Here
3. French Dictionary Offline
It is the best French to English and English to French, free, offline dictionary available on PlayStore for Windows, iOS and Android devices. It consists of a pool of words, similar phrases, translation and pronunciation of the searched words. It is a very simple and useful dictionary for french students.
Download Here
4. Persian Dictionary & Translator – Dict Box
It is the best Persian to English free, offline dictionary. It not only allows you to look up words and translate words from Persian to English and English to Persian but also has synonyms, similar phrases and pronunciations to offer. It is a great guide for Persian students learning to write and speak the Persian Language.
Download Here
5. Chinese Dictionary
The Chinese language is one of the most worthed languages of the time as the world understands the importance of China as a trade hub. This is the best, offline, free Chinese dictionary available on PlayStore compatible with iOS, Windows and Android.
Download Here
6.Dict Box – Universal Offline Dictionary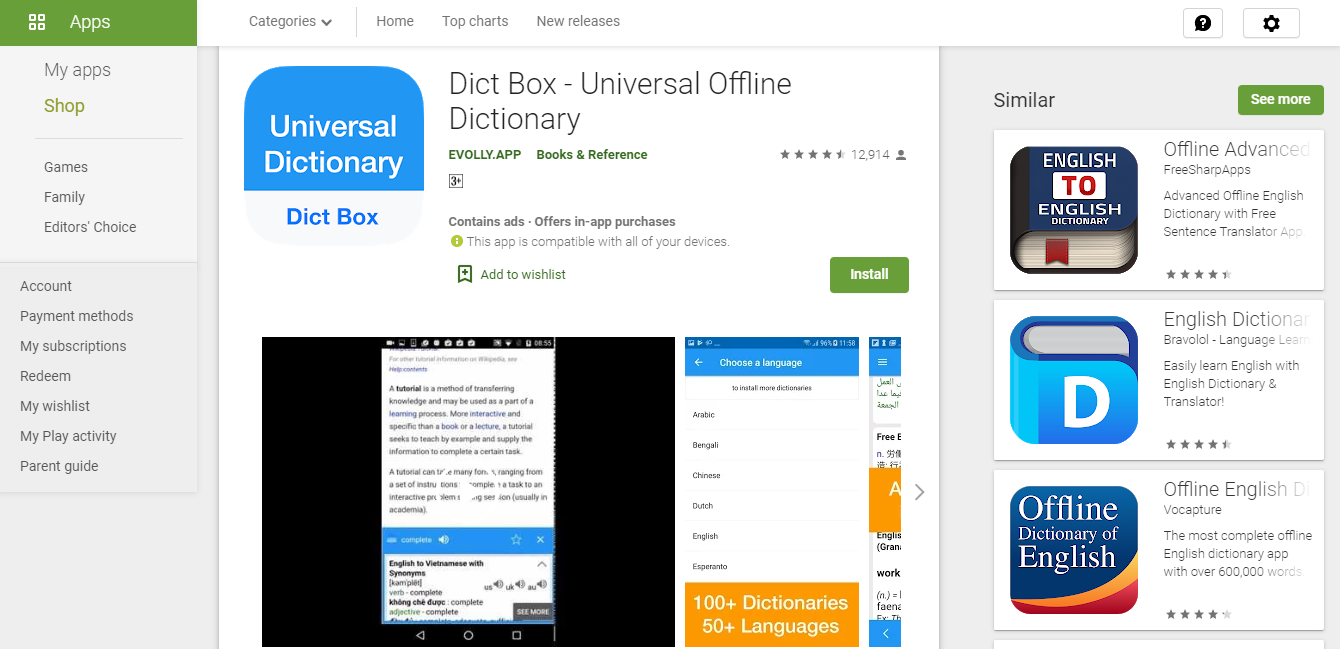 Dict Box is a Universal Dictionary. Which means that it is the best, free, offline, all-in-one dictionary. It has 50+ languages to offer and is considered to be the most versatile and helpful dictionary available online. This best E-dictionary will help you gain command on any language/languages you wish to learn.
Download Here
7.Dictionary – Merriam-Webster
Merriam-Webster Dictionary is indeed a very popular and recognized dictionary for American English language. Other than audio pronunciations, a vast pool of words, word synonyms and example sentences, it has word games which makes the learning process a lot more fun. Enjoy your journey of improving vocabulary with the Merriam-Webster Dictionary App on Android.
Download Here
8.Oxford Dictionary of English: Free
The Oxford Dictionary App is stuffed with a lot of cool features to help you not only learn new words but organize them according to your will for easy access. The Oxford dictionary App has over 3,50,000 words registered, it allows its user to use the camera in order to translate or scan a word for its meaning. Oxford dictionary app for android is the best dictionary you can have on your phone.
9.Dictionary Linguee
Dictionary Linguee is a multilingual dictionary, which is more of a translator. It offers translations in French, Spanish, German and more. It is for those learning a language other than English. It is as if an alternative to Google Translate, it offers word meanings, synonyms, example sentences and audio pronunciations. One of the best dictionary App for multilingual.
Download Here
10.Advanced English Dictionary & Thesaurus — FREE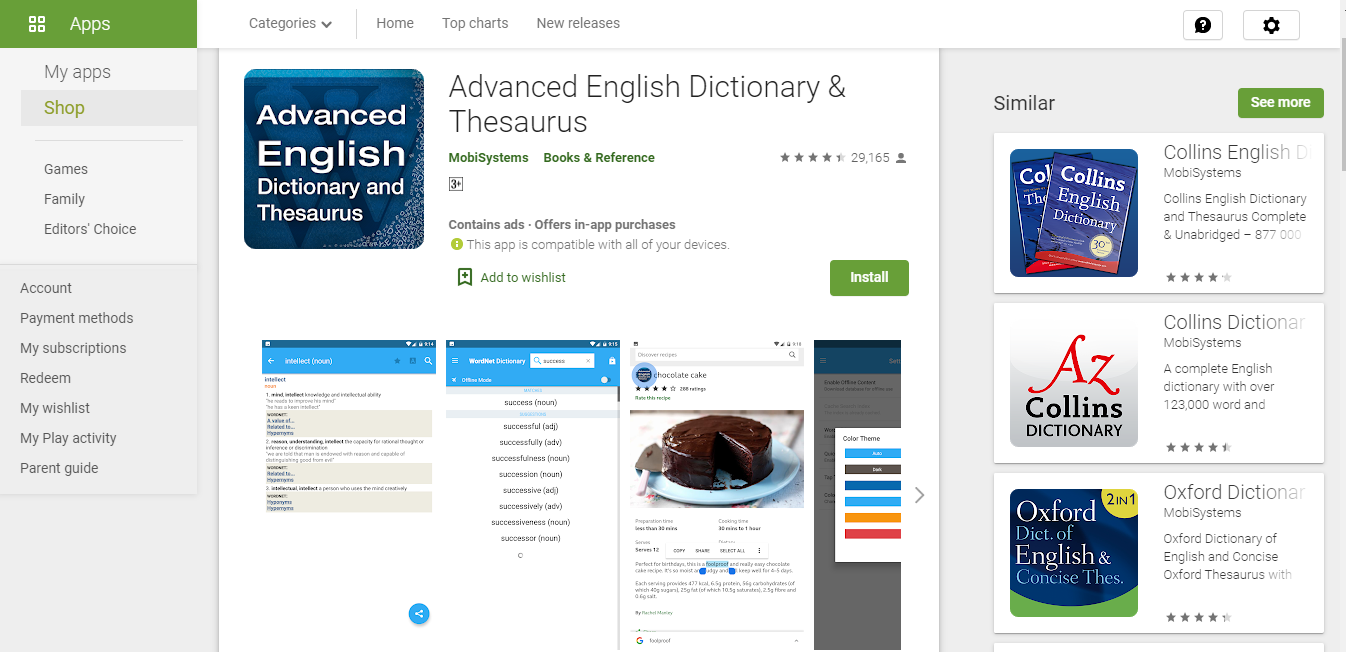 Advanced English Dictionary & Thesaurus is loaded with all the features one might lookup for in a dictionary. It includes word meanings, Synonyms, antonyms, similar words, sentence examples, voice search, camera search, translation from other Apps and much more. It is one of the best, free, offline dictionary app for android.
Download Here
11. Dictionary – WordWeb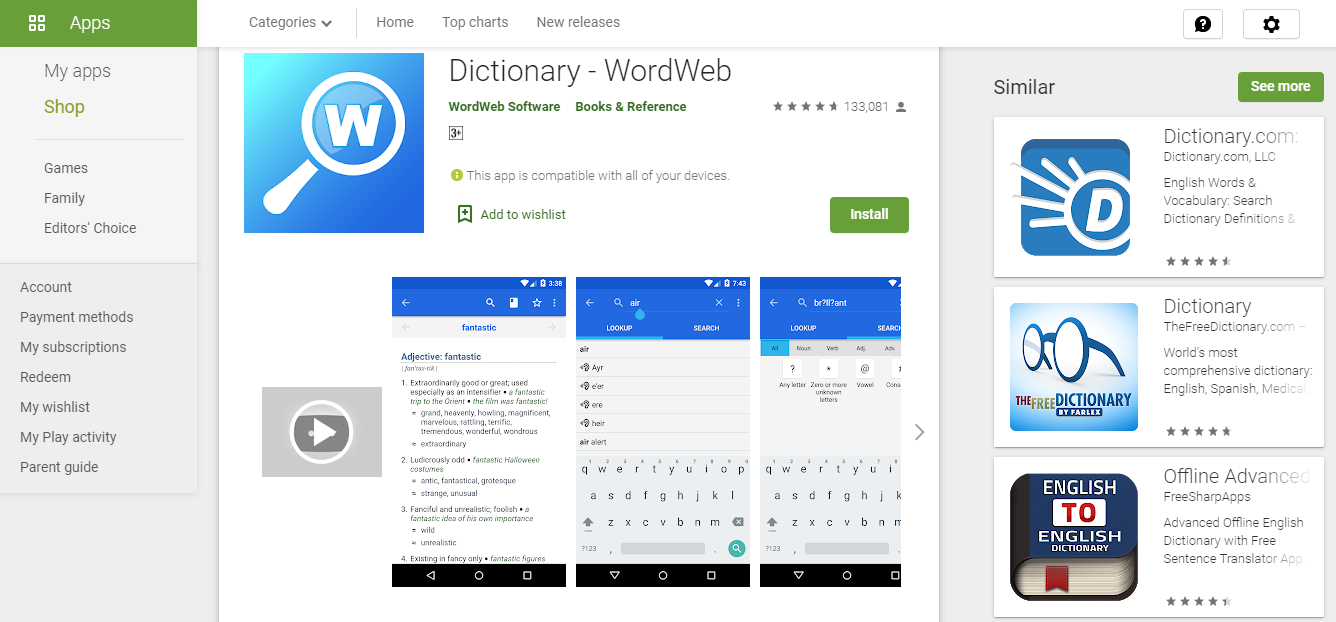 WordWeb Dictionary App for android is a great dictionary app for android.Other than word search, synonyms, antonyms, voice search, camera search and more it has a very unique feature that shows commonly misunderstood words and differentiates between words with similar sounds. A very good dictionary app afterall.
Download Here
12. Dictionary.com: Find Definitions for English Words
Dictionary.com dictionay app is no ordinary dictionary for android. It is an android dictionary that allows you to lookup for not only word but for english definations. It supports voice search, in-app search and more. With Dictionary.com improve your sentence structure, enhance your vocabulary and get all your concepts clear up.
Download Here
Hope you find these offline dictionaries helpful. Below are a few FAQs related to dictionaries answered to cater your ambiguities.
Why Do You Need A Dictionary App?
Long gone are the days of carrying heavy dictionaries, google has become the sole guide of us all. But still why do you need a dictionary app rather than trusting Google and Google Translator?
Well, simply because, firstly you may not always have an internet connection and your curiosity for a new word's meaning should not be left at a halt.
Secondly, A Dictionary App helps you learn new words every day through a pop-up notification, in almost all the dictionary apps. Which means that whether you like it or not they are going to teach you a word a day by hook or crook.
Thirdly, the android dictionary apps allow you to keep a history of your search words, catagorize, save and organize them in order to make them more reachable and easy to memorize.
How To Install A Dictionary On Android?
Click on the links for the dictionary of your choice mentioned-above or head on to PlayStore and download the best suited dictionary for your convenience.