CAREEM Reduces Prices By 31%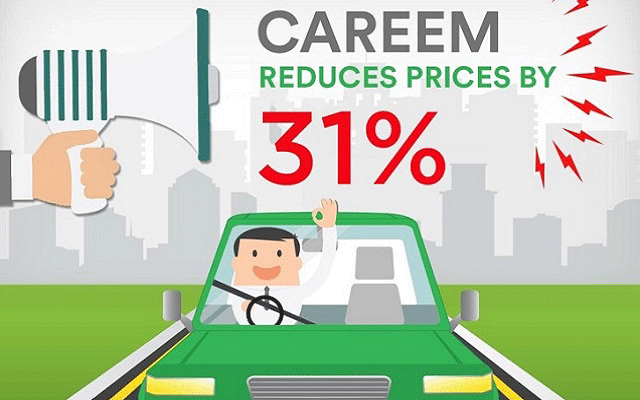 Following the footsteps of Uber, CAREEM one of the fastest growing app-based car booking platform in a recent move has reduced its prices by 31% in Lahore. The change in prices shall be reflected in the per KM rate for the Economy cars. Where as the prices for business and Wifi cars will remain the same.
Just a month ago CAREEM revised its tariff rates but due to competition and growing demand of app based taxi, they again revised their tariff rates to provide their customers with safe, comfortable and affordable rides.
The new rate is Rs.11/km instead of the Rs.16/km being currently charged. The new rates are effective immediately. The base rate of Rs. 100 for NOW & Rs. 250 for LATER shall stay the same. The waiting charges have also been reduced to Rs. 290 from Rs. 330 and the minimum fare has also been reduced to Rs.150 from Rs. 200. The change in per kilometer charge, along minimum fare change shall greatly impact the total fare and make the service cheaper than a rickshaw, even for smaller distances.
Now lets, do a comparison of total fare for a journey. So if you are travelling from DHA Phase 5 to Liberty Market, previous total fare for this journey was around Rs. 300 and the new total fare for the same journey is around Rs. 230. The new rates makes the journey even cheaper than a rickshaw.
On this occasion, MD Careem Pakistan, Junaid Iqbal, said:
"Our reduced rates shall help make the economy car more accessible to a majority of the population, who can now enjoy the luxury of a car at very economical rates. We want to make our platform available to all and make sure that their transportation needs are taken care of in a convenient, safe and reliable manner."
CAREEM is an app-based car booking platform offering reliable, convenient and secure transportation to citizens across Abu Dhabi, Bahrain, Beirut, Cairo, Casablanca, Dammam, Dhahran, Doha, Dubai, Jeddah, Khobar, Kuwait, Rabat, Riyadh and now in Pakistan. Careem formally launched in Lahore in October 2015 and since then has launched in Karachi and most recently in Islamabad and is credited for being the largest and fastest growing app based car booking platform in the MENAP region.