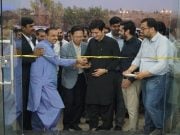 Samsung Electronics, a global technology leader and award-winning innovator in consumer electronics, telecommunications and home appliances, is expanding across a number of cities of...
Samsung in collaboration with Vodafone Netherlands has released Samsung Galaxy S9 and S9 Plus Red Bull Ring Edition.
According to a study revealed by Wired, Some Android Phone Makers Caught Lying About Security Updates.
The codename of Note 9 is "crown" which hints Some Supreme Features.
The question remains, that with the Samsung S9 and S9 Plus getting mixed reviews about their 'dual aperture' camera. Will it be named Samsung S9 mini? What do you all think?
A Chinese leaker, ICe Universe announces that Note 9 will have either 4000mAh or a 3850mAh battery.
Many consumers are expressing their dissatisfaction over the S9's battery performance.
The new update brings the Always On Display (AOD) feature on all three smartphones.
Samsung is working on the next flagship Note 8, and it is expecting that it would be better device than S9 &S9+.
Like its exemplary previous versions, Samsung has enhanced its software with a great new look and brand-new functionality. The new software features in Android Oreo are unbeatable.