When users of Chrome browser on mobile open a new tab, they see a list of suggested articles automatically.
If you want extra cameras in your iPhone then here is the good news for you. Next year, in 2019, Apple plans to release iPhone 12 in which extra camera will be present on the back of your handset.
After the release of Samsung S9 and S9 Plus, everyone is waiting for the next flagship by the Samsung.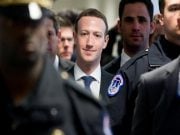 Facebook chief executive Mark Zuckerberg apologized for Russian election interference and third-party use of user data in a testimony to Congress.
More than 650,000 Rohingya Muslims have fled to Bangladesh from Myanmar due to UN's "Ethnic Cleansing"and many are killed too.
All Android users have to wait a little bit to enjoy this feature.
Now stay connected with your loved ones throughout the week. 
V9 is designed to be an ultimate sleek and stylish smartphone that can always take the "perfect shot"
Currently, Careem and Bykea offer bike-hailing services in the country with Uber's latest addition, competition is set to increase in a growing ride-hailing market of Pakistan.
After the period of 6 months when the former Member Finance PTA, completed his four years term, Government of Pakistan has appointed the new chairman PTA.