Ufone will be visiting multiple higher education institutions across Pakistan starting today till May 09, to recruit interns for their flagship apprenticeship program,The Summer...
Customers can also avail this offer, it they convert their current Ufone Prepaid SIM to Postpay, or port from another network to Ufone Postpay.
now on purchase of new Internet SIM, Ufone users will get free 1000 MBs. 
All Ufone users can avail this offer and can make unlimited calls to all Ufone numbers.
Now you don't need to switch SIMs and wait for long queues at overseas airports for buying an international SIM.
With Ufone SIM Lagao Offer Enjoy Free Minutes, MBs and SMS for 30 Days.
PTCL and LMKT are pleased to announce the formal inauguration of National Incubation Center (NIC), Peshawar funded by the Ministry of IT&T and Ignite Fund .
With Mobile Connect, you can use your mobile number and mobile phone to verify your identity
With this service, users can now identify the person calling their phone before answering the incoming call.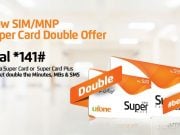 New users can avail this offer by dialing *141# on recharge of Ufone Super card or Ufone Super Card Plus.