Zong 4G has been at the forefront of this revolution, continues to be the 4G leader in Pakistan. The company has played an integral role in developing 4G ecosystem,
Zong 4G's prepaid subscribers who sign up on Instagram for the first time will be able to enjoy picture viewing for free in the first 3 days.
Presently the gravity of 4G breakthrough in Pakistan, especially through Zong 4G can be well comprehended with how technology has transformed lifestyles for over 8 million 4G users
Zong introduces a new weekly offer to its customers. Zong Super Weekly Max Offer gives you the convenience for the whole week.
All customers with compatible devices can connect to the internet more quickly, more reliably and in more places than ever before.
Zong brings an amazing offer for its customers who have not used their sim for last 30 days.
Zong 4G's connectivity has been playing a pivotal role in transforming the digital landscape of country by empowering millions of people with Pakistan' No.1 Data Network
My Zong App is a one stop destination which enables customers to manage complete profile of their respective Zong numbers,
The response time was fairly minimal from the time a person enters the concept store to acquiring a token and getting his query addressed.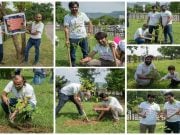 The tree plantation drive is part of the 'Mera Mulk Mera Bagheecha' campaign. Under this movement, dozens of the personnel of Pakistan's No.1 Data Network from different departments assembled at Zong HQ