Dubai Police Hires a Real Life RoboCop to Fight Crimes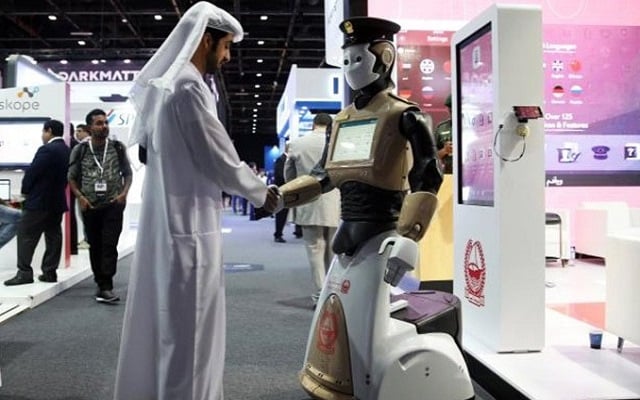 The world is more progressed than we are thinking and reading about it. Drones and IoTs are no more a dream to come true rather nations are presently exercising them. Worldwide countries are becoming connected and smarter with each upcoming technology. One such example is of he Government of Dubai which is really pursuing its Vision 2025 while incorporating drones, robots and flying cars to facilitate its citizens. This time Dubai Police Hires a Real Life RoboCop to Fight Crimes. The robotic policeman can esily identify criminals and also collect evidence from crime spots. Additionally, the RoboCop will also patrol in the busy streets of Dubai just like usual policemen.
Dubai Police Hires a Real Life RoboCop to Fight Crimes
The induction of "robot" in Dubai police actually aims to replace the some of human crime-fighters with the machines.
If this "Robocop" experiment becomes successful then Dubai Police says that:
"It wants the unarmed robots to make up 25 percent of its patrolling force by 2030."
RoboCop is clad in the colors of the "Dubai Police" uniform, just like human size and shape body, can also shake hands and perform the military salute; indicates the Government's plan to use technology in order to improve the services and security system before the "Dubai Expo 2020."
"These kind of robots can work 24/7. They won't ask you for leave, sick leave or maternity leave. It can work around the clock."
Said Brigadier Khalid Nasser Al Razooqi, director general of the Smart Services Department at Dubai Police.
RoboCop is the first automated policeman in Middle East. It is the Robot on wheels and is equipped with some cameras and facial recognition software.
Earlier in Gitex 2016, the Government of Dubai has showcased this Robot at police stall.
Read More About Gitex 2016 Here: My Journey to the Hub of Technology Startups Dubai & Gitex 2016