Easypaisa Sponsors Pakistani Film "Arth 2" Directed by Shaan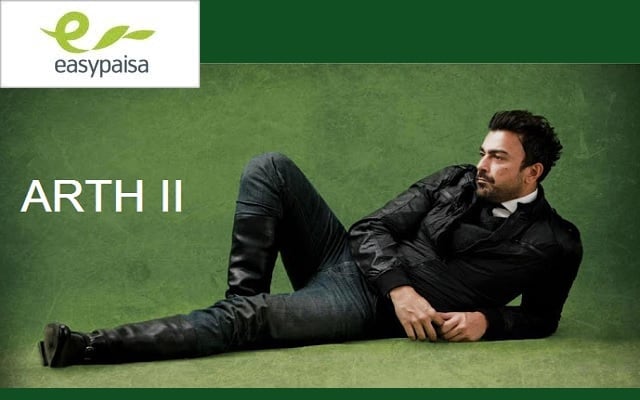 Pakistan's first and largest branchless banking service and a joint venture of Telenor Pakistan and Tameer Microfinance Bank, Easypaisa announced today that it has entered into an agreement with HKC Entertainment, AAA Motion Pictures and 5th Element productions to sponsor their upcoming film, Arth 2. The film is written and directed by Pakistani veteran Actor/Director Shan Shahid starring himself, Humaima Malick, Mohib Mirza and Introducing Uzma Hassan.
Easypaisa Sponsors Pakistani Film "Arth 2" Directed by Shaan
In recent years, the nascent Pakistani Cinema has witnessed an upsurge of refined films, and is unveiling its influence and soft power in the world. The cinemagoers in Pakistan are gradually developing an appetite for Pakistani films and have restored their faith and trust in the Pakistani film industry.
Easypaisa acknowledges the progress the Pakistani Film Industry has made and wishes to support local artists. By sponsoring projects like Arth 2, Easypaisa hopes to set a precedent in the industry for supporting talented artists and their work. The goal is to promote such win-win collaborations, where both the sponsor and the artists benefit from increased awareness, and empower them to continue their contributions towards making Motion Pictures an established industry in Pakistan.
Arth 2 is an official remake of the Bollywood classic art film Arth (1982), which was directed by Mahesh Bhatt. Arth 2 will have the same characters, set in modern day, urban Pakistan. The film will feature melodious soundtrack by Sahir Ali Bagga with songs by Rahat Fateh Ali Khan as well. The film was in pre-production for the last 10 months and on 1st December 2015, the first clap was done on the completion of Shaan Shahid's 25 years as the unmatched Super Star in the industry.
On this occasion, Nadeem Hussain, Founder, President and CEO Tameer Microfinance Bank said,
"I am very optimistic on the future of Pakistani cinema. The past few years have positively shaped our industry's output and I am confident that movies like Arth 2 will further accelerate the momentum. I am proud of our endorsement and involvement with Arth 2 for supporting promising talent and the revival of cinema. We wish Shaan and his team all the best for this venture".
Muhammad Yahya Khan, Chief Financial Services Officer, Telenor Pakistan and Head of Easypaisa said,
'We are delighted to endorse Arth 2 and encourage the new wave of Cinema in Pakistan since it provides ample opportunity to our young aspiring talent and veterans to contribute and make their mark in the promising Pakistani film industry. We believe in promoting cultural openness and want to help Pakistan's economy through films which is a prime medium for impelling the domestic and international market.'
Shaan Shahid (5th Element), writer and director of Arth 2,
"I am trying to unlearn as I need to learn more so one must empty to fill again. My experience must be passed on to the new generation as we have so much talent, which will take the industry forward. I am happy and blessed to be able to do what I love doing, 'making films'."
Hammad Chaudhry (HKC ENTERTAINMET) said at the occasion,
"HKC entertainment has been in the film industry for over 50 years within production and distribution. We are very excited as producers and distributors to see the revival of cinema in Pakistan. Our audiences want to see more and more Pakistani films and we are committed to produce and distribute quality films for them in collaboration with the support of corporate industry.
Appreciating the collaborative efforts of filmmakers and corporate sector, Ali Murtaza (AAA Motion Pictures) said,
"Collaboration is the way forward. Cinema industry needs support from big corporate players and their expertise too. Cinema is the ultimate medium engagement, as it is much more conversational for brands than TV. We are extremely happy to see this positive change in the corporate industry and thankful to Easypaisa team for stepping forward."
The film is expected to hit cinemas in summer 2016; release date will be announced later.
About Easypaisa
Pakistan's first and largest branchless banking solution, Easypaisa, was launched jointly by Tameer Micro Finance Bank and Telenor Pakistan in 2009. Easypaisa has the largest financial footprint in Pakistan with over 70,000 Easypaisa shops in more than 800 cities across the country. Nearly 650,000 transactions are conducted on Easypaisa every day by 15 million active customers. In 2015, Easypaisa moved nearly 3% of Pakistan's GDP. Easypaisa has the largest product portfolio of services for its customers including remittances, payments, savings and insurance and offers ATM cards and IBFT services that work with all banks connected through 1-Link in Pakistan. In February 2014, out of more than 250 Mobile Money services around the world, Easypaisa was awarded two GSMA Awards, including the "Best Mobile Money Service in the World" at the Mobile World Congress, Barcelona, Spain. For more information, please visit: http://www.easypaisa.com.pk
About Tameer Microfinance Bank Limited
Tameer Microfinance Bank Limited (TMFB) is the first scheduled and largest Microfinance Bank in Pakistan. Incorporated in 2005, it provides micro‐finance and related financial services to the less privileged and unbanked segment of the society with an aim to contribute towards poverty eradication under the Microfinance Institution ordinance, 2001. TMFB currently has 157 customer touch point's nationwide offering a range of financial services including Deposits, Loans, Mobile Accounts, Health Insurance, Remittances, Cash management services, Bank on Wheels. Based on the results for the year ended 31 December 2014, JCR-VIS Credit Rating Company Limited (JCR-VIS) has reaffirmed the entity ratings of Tameer Microfinance Bank Limited (TMBL) at 'A+/A-1' (Single A Plus/A-One). Outlook on the assigned rating is 'Stable' as of April 17, 2015. For more information, please visit: http://www.tameerbank.com
 About Telenor Pakistan
Telenor Pakistan is a provider of high quality telecommunication services in Pakistan since 2005. It has over 33 million subscribers, over 2,800 employees and a nationwide network. Telenor also holds a majority share in Tameer Micro Finance Bank Limited. Telenor Pakistan is 100% owned by Telenor ASA and adds on to operations in Asia. For more information, please visit: http://www.telenor.com.pk