Are Solar Panels Worth A Shot In Pakistan?
Energy Efficient And A Better Investment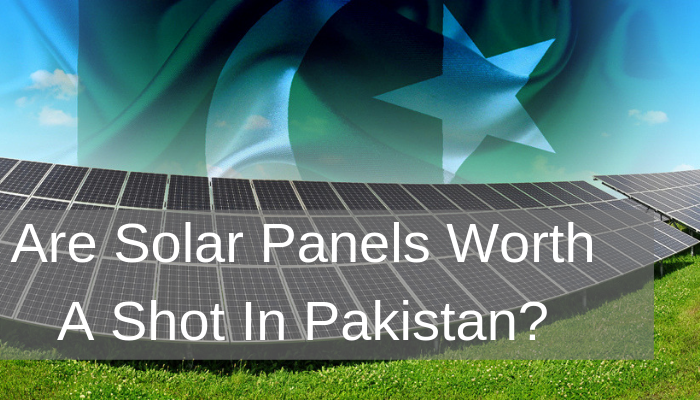 With all the hype about Solar Panels, We decided to give you a detailed insight into What Solar Panels are And How Solar Panels Work? And Is Investing in Solar Panels Worth a shot in Pakistan?
Introduction To Solar Panels?
Solar Panels are basically panels with Photovoltaic Cells (PVC) embedded. PVC takes the packeted thermal energy (Photons) from the sun and converts them into electricity to facilitate you.
How Much Energy Can A Solar Panel Provide You?
Each panel is rated by its DC output power under standard test conditions (STC), and typically ranges from 100 to 365 Watts (W). The efficiency of a panel determines the area of a module given the same rated output – an 8% efficient 230 W panel will have twice the area of a 16% efficient 230 W panel. There are a few commercially available solar modules that exceed the efficiency of 24%.
Is Investing In Solar Panels Worth A Shot In Pakistan?
First thing first, Country like Pakistan with all these energy crises does need some support system like Solar Panels in order to replace energy sources. Also, Pakistan is uniquely located. It has extensive solar rays coming to it. It has certain regions that are extremely hot for over 6 months in a year. But the question is that is 'Solar Panels' the solution to it? And Is it worth spending all that money?
The Cost
Solar panels come on per watts basis, that is, a solar panel can be of 100 watts. Putting two such panels will get you 200 watts and so on.
There are 3 main constituents we need to get when going for Solar Panels:
Solar Panels
Batteries: to store the produced energy to be used later
Invertors: used to convert electricity into a form that is usable by our appliances.
The formula is simple Rs.100 per Watt + Inverter, Batteries And Maintainance cost.
let's assume the following situation for cost calculation:
We need to run the following items on solar energy:
2 Fans
2 Energy Savers
1 laptop
and few chargers
Here's the corresponding load we will need:
2 Fans: 110 x 2 = 220 Watts
2 Energy Savers: 20 x 2 = 40 Watts
1 laptop = 20 Watts
and few charges = 10 Watts
Total: 270 Watts
Ideally speaking we will require 270 Watts of energy to be produced by a solar system that we are going to deploy in our example case.
Practically, we will deploy 540 Watts panels, because when on Solar energy – during day time – we need to power our appliances with 270 watts, plus we need to charge our batteries too for usage during load-shedding in the night.
Here is the corresponding cost for 540 Watts of Panels:
Solar Panel: Rs. 100 per watt = Rs. 100 x 540 = Rs. 54,000
Invertor – we will need 1KW inverter = Rs. 26,000
Batteries: 2 x 200 Amp batteries: Rs. 13,000 x 2 = Rs. 26,000
Total Cose: Rs. 54,000 + Rs. 26,000 + Rs. 26,000 = Rs. 106,000
Maintenance Cost
Life of solar panels is around 25 years, however, with time the efficiency or electricity-production ability of panels lessens
The lifetime of dry-battery is around 5-7 years
The lifetime of liquid-battery is around 2 years
Due to the high maintenance cost, it has not become the alternate for energy, as people don't view it as a one-time investment rather take it as very demanding. It will take time for solar energy to be a viable solution. However, with the cheaper solar equipment, the cost becomes sustainable.
Go For It!
If you have extra money to invest, invest it in PVCs. Not only that it'll help the country recover from its energy crisis but after the one-time fitting of the panels the maintenance cost can't exceed the high electricity bills you are to pay every month. It is better to go for partial Solar Energy dependency. Like, have the bigger units run on Solar Panels. Such as the Air Conditioners, Washing Machines etc or have the smaller units run on Solar Panels such as lights and fans. Choose either of the two in order to divide the burden. By the pace at which technology is moving it can be rightly said that the future is Solar Energy! So don't get left out. As technology advances more efficient and cheaper means may arise and then adopting them will be way easier.
Hope you find the article informative! Comment below your remarks.