Facebook CEO Zuckerberg Supports Digital India Ahead of Q&A With PM Modi
Prime Minister Narendra Modi and Facebook CEO Mark Zuckerberg met at the Facebook headquarters at Menlo Park, California where Narendra Modi answered questions from the audience at a Townhall at the Facebook headquarters. Mark Zuckerberg appreciated 'Digital India' and talked about the importance of connectivity. He also said that Mr. Modi is making an example on how to connect with people of India using social media. Modi received a warm welcome at Facebook headquarters for a town hall hosted by Zuckerberg. It was an honor for all of us at Facebook to host the Prime Minister as he shared his ideas with our community and everyone watching live in India and around the world.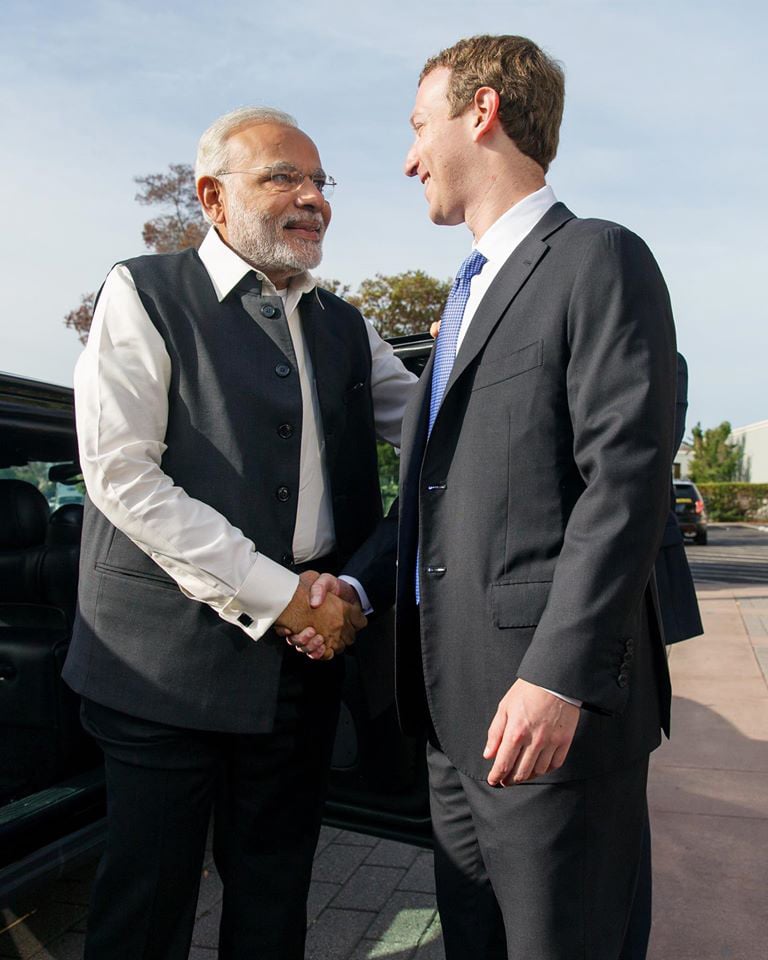 Speaking at Facebook's campus in Menlo Park, Mr Modi said:
"The strength of social media today is that it can tell governments where they are wrong and can stop them from moving in the wrong direction."

"We used to have elections every five years and now we can have them every five minutes."
He also added.
At the 50-minute event, both men became expressive. Modi told the audience women were vital to the future of his country, and was almost crying when he discussed his mother's role in his life. She had worked really hard when he was young to meet the needs of life.
Zuckerberg told Modi about an incident several years ago, when Facebook "wasn't doing so well". The late Apple CEO Steve Jobs, he said, urged him to take a spiritual trip to India and visit a temple.
Zuckerberg said, the journey cleared his head and helped reassure Facebook's mission to connect billions of people around the world. Modi and Zuckerberg's conversation turned, inevitably, toward economics and the role of the internet and technology in India. That was why many of the Facebook workers present showed up.
"I am personally impressed by the way PM Modi has used social media to connect with [the] people of India, be it women's issues or to spread messages of peace."
Zuckerberg said.
Here is video of Q&A session between Modi and Zuckerberg:
Addressing an audience of around 1,000, Modi said:
"India is one of the fastest growing economies in the world today. My dream is to become a $20tn economy. India at this point needs both physical and digital infrastructure."
Modi said social media had first been a personal interest and he had not expected to become prime minister when he started using Twitter and Facebook, platforms on which he now has tens of millions of followers.
Zuckerberg wrote:
"I changed my profile picture to support Digital India, the Indian government's effort to connect rural communities to the internet and give people access to more services online. Looking forward to discussing this with Prime Minister Narendra Modi at Facebook ."
Modi also changed his Facebook profile picture like that of Zuckerberg's.
"Thanks Mark Zuckerberg for the support. I changed my DP in support of the efforts towards a Digital India."
Modi wrote in a post on Facebook.
What is Digital India?
Digital India is a programme to prepare India for a better future. Narendera Modi, Prime Minister of India has laid emphasis on National e-governance plan and gave it's approval for Digital India. Digital India is a programme of Government of India projected at Rs 1,13,000 crores. This will be for organizing India for the knowledge based transformation and delivering good governance to citizens by synchronized and coordinated engagement with both Central Government and State Government. This programme has been envisioned by Department of Electronics and Information Technology.
The ongoing e-Governance initiatives would be overhauled to align them with the principles of Digital India. The vision of Digital India is to turn the country into a digitally empowered society and knowledge economy. It would ensure that government services are available to people electronically. It would also bring in public accountability through mandated delivery of government's services electronically.
Digital infrastructure emphasizes on providing high speed secure Internet. Governance and services on demand will stress on joining services across departments and jurisdictions and making services available in real time for both online and mobile platform.
The programme will be implemented in phases from 2014 till 2018. The source of funding for most of the e-Governance projects at present is through budgetary requirements of respective ministries in the central or state governments.