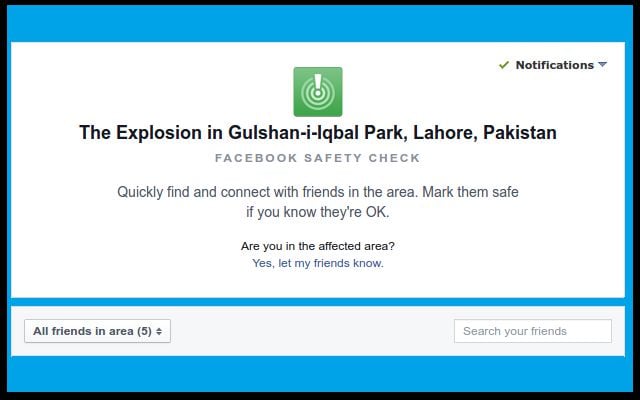 Facebook excused for the bug that sent the Safety Check notification to subscribers all over the world ensuing a lethal suicide bombing in Pakistan.
Facebook Excuses for Safety Check Malfunction After Lahore Explosion
Facebook's Safety Check tool has been turned on the stir of a massive explosion in Lahore, and has sent notifications to people worldwide. The site is inquiring everyone it thinks is near the site of the explosion in the Pakistani city if they are safe, using the debatable but high-profile tool.
But the location-based feature seems to have gone somewhat skewed, delivering messages to people who have never been to Pakistan to check whether they are safe.
According to officials, the feature was activated after a blast in a park that killed more than 53 people mostly women and children. The outburst happened in the parking area of Gulshan-e-Iqbal Park, Lahore a few metres away from children's swings.