Galaxy Note 9 Benchmark Reveals That iPhone X Can't Be Beaten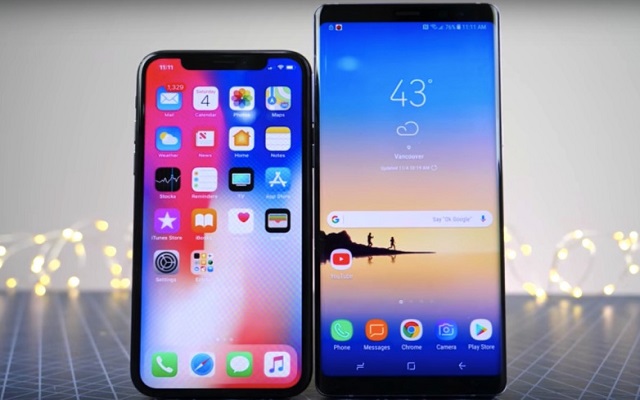 Samsung had launched Galaxy Note 9 unveiling its all key specs and features yesterday. Galaxy Note 9 turned out to be the most powerful smartphone as it features 4000mAh battery. Furthermore, its low powered Bluetooth S-Pen can control your home appliances. The phone has a lot of features that can give a tough competition to the rivals. We all know that Samsung wanted to beat the tech giant, Apple by introducing this new superpower. Actually, that doesn't happen. Recently, Tom's guide has put Galaxy Note 9 against rival smartphones in benchmark tests. Galaxy Note 9 Benchmark shows that it can't beat iPhone X.
Here is the result of Galaxy Note 9 Benchmark test
Tom's guide tested the 6GB, Snapdragon 845 version of the Galaxy Note 9, using Geekbench 4 and 3DMark Slingshot Extreme 3.1. Geekbench 4 tests the performance of the processors under all-core load. The Note 9 scored 8876 that is far below than the other thousand-dollar device, the iPhone X. Moreover, it even came third behind the much cheaper OnePlus 6. Let's have a look at Geekbench 4 result.
3DMark Slingshot Extreme 3.1 test tries to squeeze the most of devices' graphics chips. Galaxy Note 9 achieved an admirable score but again it fell behind the iPhone X and the OnePlus 6. It seems that the Note 9 shares more than visual similarities with the Galaxy S9+, which has an almost identical result.
Let's not forget that the iPhone X is a 2017 model, with a new one coming in just a couple of months. So, if Galaxy Note 9 couldn't beat the previous iPhone X then it is expected that it will not be able to beat the next too. On the contrary, it's obvious that stress tests don't translate perfectly to daily use. They still give a good idea of the capabilities of different devices under similar conditions. So, let's see how tough will be the competition between both tech giants.
Also Read: Samsung Galaxy Note 9 Pre-Booking in Pakistan Starts today