Galaxy S8 Latest Update Brings AR Emoji & Super Slow Motion
In some region, the September security update is rolling out for the Samsung Galaxy S8. Samsung Galaxy S8 latest update brings two major feature: the Super Slow-Motion and AR Emoji.
Galaxy S8 Latest Update- Here's what you need to know about it
Super Slow Motion is already available in Galaxy S9 and Galaxy Note 9. It allows users to take 0.2s of 960fps video at 720p in automatic mode, or 0.4s of 480fps video at 720p in manual mode. Moreover, Super Slow Motion also allows users to take 0.4s of 960fps video at 720p.
Samsung's AR Emoji are like Apple's Animoji. Users can make an avatar of themselves from a selfie. There are no exact details of Super Slow Motion but according to reports, it is available in Note 8.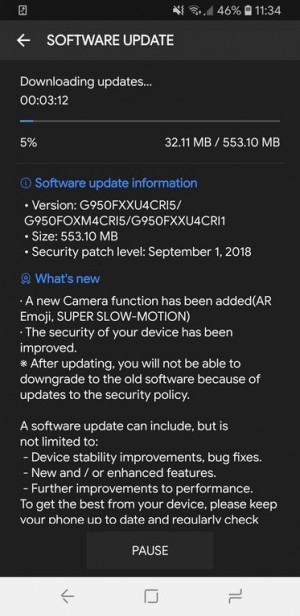 Currently, this update is rolling out in France. We don't know much more about the update.
You can share your funny and creepy stickers directly from your Samsung keyboard or copy-and-paste them from the Gallery app. Samsung's AR emoji has more features but unfortunately, Samsung's AR emoji is not nearly as accurate as apples and emoji.
Also Read: New Updates of Samsung Galaxy Note 8 Adds AR Emojis