Google Blob Emojis are Back After a Year
In 2017, Google decided to redesign the emoji roster for Android 8.0. That was the first-ever time Android had completely redesigned its emojis since Android 4.4 KitKat. After this "Gumdrop" also called "blob" shaped emojis were introduced. Google Blob Emojis were loved by everyone.
Google spent 18 months carefully redesigning the emoji, unveiling the revamped version. Despite the protests of Android users who loved the old emoji, the blobs were history.
Google Blob Emojis are back with a bang
Finally Android brings back these blob emoji in the form of an animated sticker pack on GBoard. One can find it by pressing the emoji key in GBoard and then tapping on the sticker tab.
Here's the Google's Official Announcement:
The blobs are back, baby! Have a #WorldEmojiDay treat with new animated blob emoji stickers on Android Messages and #Gboard.

Android ? https://t.co/d5BBLdt8As
iOS ? https://t.co/1Wkl53eqVs pic.twitter.com/Osqx0AtqIc

— Google (@Google) July 17, 2018

Press the "+" icon and you'll see the blob emoji waving at you. This sticker pack is called: "The Blobs Live On – the classic emojis return for more."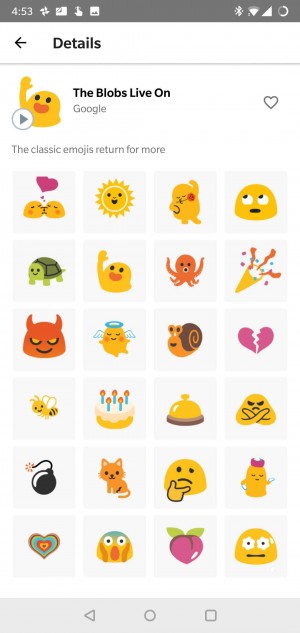 GBoard stickers incorporate well on the most messaging app such as Facebook Messenger, WhatsApp, and Android Messages. However, they will not work easily on other apps like Instagram or Twitter DMs.
The company announced that it's resurrecting its cute, flatly designed characters, albeit as a sticker pack for Gboard and Android Messages on World's Emojis Day.
Also Read: Apple Announces New Emoji's to Celebrate World Emoji Day