Haier Pakistan Makes Inroads in to the Computer Market, with 100,000 Locally Produced Laptops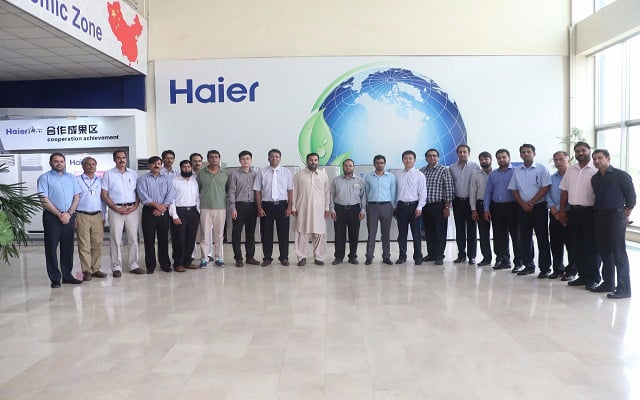 Pakistan is well on its way toward achieving full technology transfer in the manufacturing of laptops, opening the way, not in the too distant a future, for the country to join the ranks of technologically advanced countries.
This follows the setting up of the country's first assembly line in Lahore by Haier Pakistan, in collaboration with the Chinese home appliance and electronics giant, the Haier Group.
Haier Pakistan Makes Inroads in to the Computer Market, with 100,000 Locally Produced Laptops Has Potential to Reduce the Laptop Import Bill by One Third
More than a 100,000 quality laptops will be manufactured at the budding Haier Pakistan plant and will be rolled off the assembly line by 2016, making the first significant inroad in to the ever vibrant market for laptops.
As demand continues to grow this development has the potential to significantly reduce the ever growing import burden on the nation's precious foreign exchange resources.
As of now Pakistan's laptop imports are estimated to be in the region of 300,000 to 350,000 units annually amounting to an outlay of several billion in foreign exchange. Seen in that context the Haier Pakistan plant with a designed capacity of over 100,000 laptops per year, can help reduce the laptop import bill by a whopping one third. Haier Mobile & IT Pakistan has won the project for the supply of 200,000 units of 2 in 1 detachable laptops to be provided to deserving students nationwide.
Says Shah Faisal Afridi, Chairman Haier Pakistan:
[pull_quote_center]"Local production of high tech, high value goods through acquisition of technology transfer and know how is the way to go forward and that China's true potential in helping Pakistan take the high road to accelerated economic development needs to be tapped and the onus for this lies on Pakistan."[/pull_quote_center]
He also said that:
[pull_quote_center]"Haier Pakistan's assembly plant is a small example of what can be achieved".[/pull_quote_center]
"The laptop assembly plant in the immediate and short term has resulted in the creation of hundreds of jobs and in the years ahead stands to enable Pakistan to build a pool of a talented, highly qualified technical workforce".
Mr. Zeshan Qureshi, the CEO of Haier Mobile & IT said that:
[pull_quote_center]"Haier has won the project for PM Laptops Scheme by virtue of which, the Federal government will procure 200,000 units of 2 in 1 detachable laptops from Haier Mobile & IT. Mr. Qasim Tariq, GM Enterprise Business at Haier Mobile & IT, is heading the project which will be completed by June 2016."[/pull_quote_center]