Here Is An In-Depth Look At iPhone XS Camera- Best iPhone Camera Ever
After weeks of heavy rumors, Apple announced three new iPhones at an event on Wednesday. The iPhone XS, iPhone XS Max, and iPhone XR are the latest 2018 iPhones. The tech world was eagerly waiting for them. The cameras of the new iPhone Xs models are not too different from last year's iPhone X. On the contrary, the photos produced by them are the result of clever new hardware and software tricks. So, iPhone XS Camera seems out to be the best iPhone camera yet.
iPhone XS Camera Supports Smart HDR Mode
Apple's A12 Neural Engine has an 8-core design. It can handle up to 5 trillion operations per second. This will speed up and improve AR experiences and will take off some load off of the CPU. In addition to that, it will also play a big role in iPhone Xs photo capturing. Let's have a look at what's happening behind the curtains in the new iPhone Xs camera.
 Smart HDR
Apple's new Smart HDR leverages the power of multiple technologies that include the upgraded Image Signal Processor (ISP), the improved CPU, and advanced algorithms. It vastly enhances dynamic range in photos. Moreover, it doesn't let them look artificial.
Smart HDR mode lets you shoot pictures of moving objects with zero shutter lag. The A12 Bionic allows the camera to shoot a four-frame buffer of the scene, so it can freeze the motion in the frame. Smart HDR also shoots long exposure photos which are especially useful in high-contrast scenes where you have bright highlights and deep shadows.
Furthermore, Smart HDR analyzes all images and decides how to match up the best parts of the best photos for the best possible results.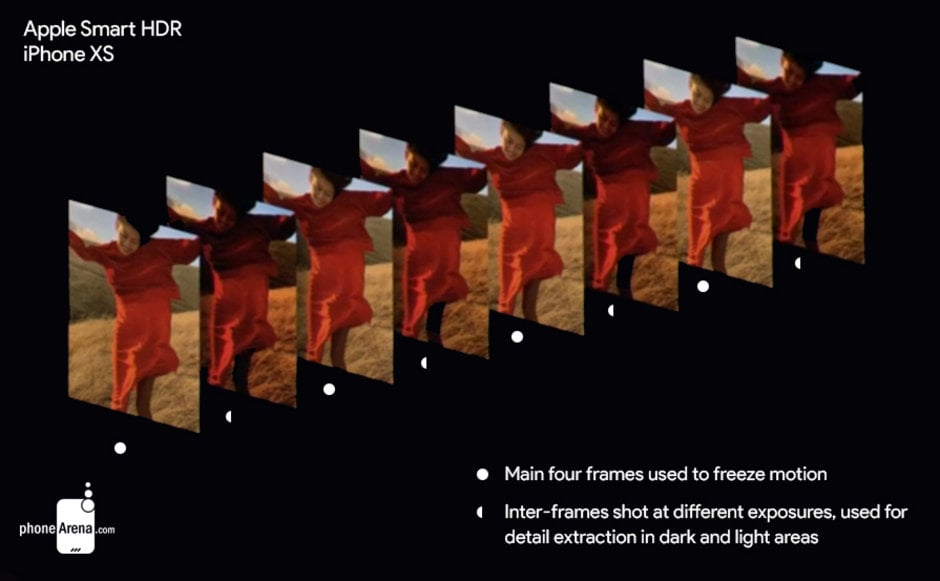 Better Portrait Mode
The new Portrait Mode now lets you change the depth of field after taking the photo. This is done by dragging a slider. The slider goes from f/1.4, which is the widest and has the shallowest DoF, all the way down to f/16, which is the narrowest and has the greatest DoF. Portrait Mode can now deliver better skin tones. The photos will be more well-adjusted, professional-looking now.
Improved low-light performance
The octa-core Neural Engine of the iPhone XS is supposed to deliver sharp, clean, and color-accurate results in very dimly-lit scenes.
Let's have a look at some official sample photos.
We can't wait to thoroughly test out the new iPhones in all kinds of scenarios. For that, we have to wait a little longer.
Also Read: China Telecom confirms the first dual-SIM iPhone