India's 5G Dream Shattered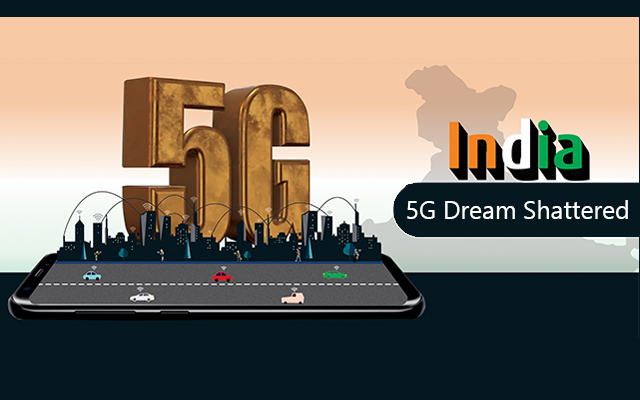 India was targeting 2020 for 5G rollout, but the country is yet to allocate 5G spectrum to operators even for 5G trial of use cases. Launched with much fanfare by telecom minister Manoj Sinha and Ericsson president and CEO Börje Ekholm last year, Ericsson's 5G innovation lab has also stopped its 5G-related work around technology testing and use cases after it's trial spectrum license expired. India's 5G Dream seems shattered with failure to launch of much talked 5G technology as it is tied to India political slogan of providing four million jobs, $100 billion new investments in telecom industry and sector's contribution to GDP up to 8% till 2022.
All this now remain to be only a dream, as we can't see India on the map for the 5G technology's large-scale rollout somewhere in the near future.
India's 5G Dream Shattered
India was hoping to join world technology leaders by 2020 with the launch of 5G but the reality is that it lagged in introducing even previous generation of technologies raising questions on its ability if India is really prepared to launch 5G in the next few years.
The answer to the launch by 2020 or even another few years is simply NO! There are so many factors that are making the launch of the 5G in India impossible. One of the major challenges for 5G rollout in India is a lack of essential infrastructure. Only 22 percent of towers are connected to fibre, but according to industry insiders, there is a need for 100 percent connectivity. The current network of base stations and small cells are also major infrastructure challenge. For a successful 5G rollout, operators and infrastructure companies need to increase the fibre footprint in the country. That is a time-consuming process and it is not possible to happen in 2019 in order to support the launch of 5G in 2020.
Another major hurdle is the disagreement of operators on the auction timing of spectrum. The uncertainty, that when the airwaves should be auctioned for 5G, is giving a clear indication that 5G rollout in 2020 would remain elusive for India. It is also not clear at this stage that whether or not operators would be able to purchase the spectrum at the recommended pricing.
In India, the field trials are only conducted by Bharti Airtel and Reliance Jio. The limited trials show that spectrum for 5G trials has not been allocated and, without a base of trials, the launch of 5G is not possible.
More interestingly, the industry experts have also highlighted that the use cases foreseen or tested globally might not, be applicable to India. The country is still unaware of the exact use cases of 5G in sectors like manufacturing, healthcare, and education.
The India dream of launching 5G does not seem to be materializing any time soon. The amount of pre-work required and the absolute necessity of base trials is a cumbersome task and would require more time than India has foreseen. Moreover, it is not yet final that the operators would agree on purchasing the 5G spectrum as per the estimated rates, a task, which could require revisiting to the government policy, hence possibly delaying the launch of 5G spectrum even more.
Recommended Reading: 5G: From Dream to Reality