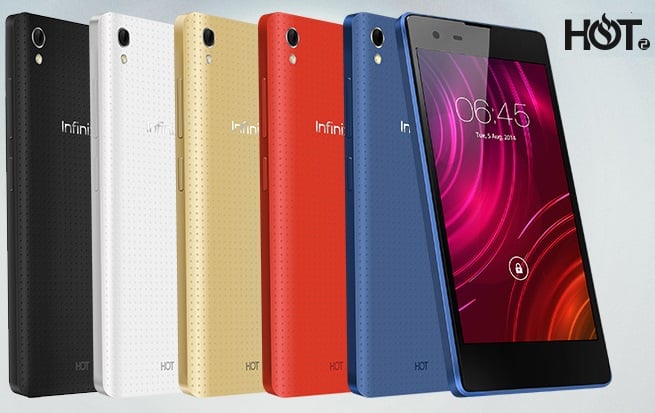 A Step Towards a better Model Like Infinix hot 2:
Google's attempt to launch a latest type of Android smartphones in developing countries is appreciable. Like all Android One phones, the Infinix HOT 2 combines a high-quality hardware experience with pure Android software. It has been launched in Africa as Android One and will go on sale within few weeks in Pakistan.
Infinix Hot 2 runs on the latest version of Android, the Android 5.1 (Lollipop), which offers faster performance and a more efficient use of battery. However, the most interesting aspect is that the new smartphone is based on Google's Android One standard.
Key Specs:
| | | | |
| --- | --- | --- | --- |
| Display | 5.00 inches | Front Camera | 2-MP |
| Processor | 1.3 GHz | Resolution | 720 x 1280 Pixcels |
| RAM | 1 GB | Storage | 16 GB |
| Battery Capacity | 2200mAh | Rear Camera | 8-MP |
| OS | Android 5.1 | | |
Hands On:
Infinix hot 2 is very reliable and quality based handset which gives the best result either you are using with circuit switching or with packet switching. It's very light in weight, Different in color and its screen surface gives a better look and you can operate in a better way. It's Able to move freely or easily.
Display & Camera:
Infinix Hot 2 offers a better display. It is 5-inchs wide just like its predecessor, but now packs more pixels with a 720 x 1280 pixels resolution for a more brilliant view and better quality.
The camera is also getting a splendid result with an 8 megapixels camera on the back. This will ensure great quality photos on the Infinix Hot 2. The front facing camera still retains 2 megapixels.
Hardware/Software:
Infinix Hot 2 is powered by a 1.3GHz quad-core processor. This may be the same as the 1st generation technology, but with the more efficient Android version 5.1, Infinix is boasting of up to twice better performance.
Infinix Hot 2 is also introducing a 2GB RAM variant which should make things run more smoothly. A variant with 2GB RAM will also be available.
Currently running stock in Africa using Android 5.1.1 Lollipop, the Infinix HOT 2 will be updated to Android 6.0 Marshmallow at some point. Infinix hot 2 is a dual SIM device, that gives better communications with our beloved ones.
CPU information by using Antutu & Vellamo app,here is the result.
Network Support:
Infinix hot 2 is supporting 2G GSM Network on 850 / 900 / 1800 / 1900MHz spectrum and it also support 3G WCDMA Network supporting 900 / 2100MHz spectrum.
Storage:
Infinix hot 2 has 16 GB internal storage and also has expandable storage and the expandable storage type is microSD memory card. We can expand memory up to 32 GB.
Sensors:
Infinix hot 2 mobile have different sensors which have different functions i.e. Proximity sensor which has ability to detect presence of nearby objects without any physical contact. Proximity sensors can have a high reliability and long functional life of the device, Similarly, Accelerometer which has ability to measures the tilting motion and orientation of a mobile phone.
Price:
As for as the price of this phone is concerned, the infinix hot 2 is a steep markdown from other smartphones equipped with Android's newest software.
Benchmarking Using Vellamo & Antutu:
We got result in scores by running the function of Vellamo and Antutu, the scores of Infinix hot 2 are better than its competitors.
Here are some snaps that will show the score and some functionality of Infinix hot 2.
Conclusion:
According to the specs, performance and the result achieved by Vellamo and Antutu, we can say that Infinex is better device for everyone because it's not only reliable in performance but it's also easy to carry. It's also equipped with high pixels front and back cameras. By the use of Infinix 2, you can obtain better result in communications and data as well.