Infinix XB03 & XB04 Smart Band Bracelet And XW01 Smart Watch
From products specifications to prices we have it all covered here.
Here's all you need to know about the Infinix XB03 Smart Band Bracelet which was recently launched in Pakistan. The device features a 3-axis accelerometer which allows you to count your steps, tally the calories you have burned and even monitor your heart rate and sleeping schedule. The strap is made of soft and comfortable TPU material and can store up to 7 days of workout data.
Infinix XB03
It has a 0.96-inch colorful IPS display and is rated IP67 for water resistance. It can be connected to the Infinix Life App and also has a Smart Touch Key. The battery life can go up to 20 days on standby and they system supports Bluetooth 4.1 and Android 4.4 or above.
Moreover, the screen features different display buttons and the device displays the Date/Time, Weather, any smartphone notifictaions ( caller ID, text messages), music control, alarm clock and sedentary reminders. It has a 90mAh battery and comes in black color. The shutter function can help capture images by remotely controlling your phone's camera.
Infinix XB04
Now moving on to the Infinix XBand 4 we see that it shares a lot of similarities with the XBand 3 along with some features unique to itself. This device has .87 inch LED screen and 70 mAh battery. It can work up to 7 days and be on standby for 10. The device has low power consumption and has a portable deign to allow for easy and quick charging.
Furthermore, it too is graded IP67 against water resistance and works with Andorid systems 4.3 or above and Bluetooth 4.0. It also reportedly supports IOS 8.0 or above. The device can be used to monitor your sleep schedule and quality along with your step count and heart rate. It also supports Facebook, Twitter, WhatsApp and Skype.
Additionaly the band has sensors which allow the screen to light up when it is lifted. The screen can display your phone notifications, alarms, date/time and keeps track of the distance and time you run or cycle for and the remote camera allows you to capture images on your phone. It also allows you to accept or reject calls directly from the band.
The band was released in 4 colors; Black, Light Blue, Dark Blue & Purple. It can be purchased for Rs.1,599 here.
XW01 Smart Watch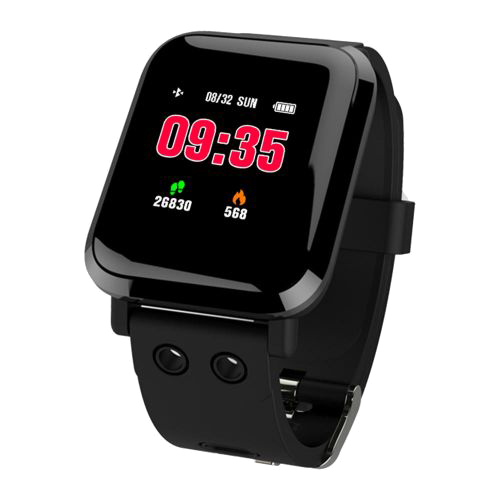 When we talk about the XW01 Smart Watch there are a lot of features to be discussed. It features a heart rate monitor, counts calories burned, has a blood oxygen monitor, weather, a pedometer, a sedentary reminder, alarm clock and stopwatch.
Furthermore it has a built in nR52832 chip to provide maximum stability and fast usage. It has a 170mAh battery and when charged for 2 hours can work for up to 7 days and be on standby for 20. The IPS color screen provides a beautiful display. The background of the screen can also be customized to your liking.
It also measures the distance you have walked or run and allows for music and remote camera control. The screen displays push notfications directly from your mobile phone including messages and gives you the option of either accepting or declining the call.
Moreover, the watch supports WeChat, Facebook and Twitter. The watch is compatible with Android systems of 4.4 above and iOS 9.0 above and connects to the Infinix Fife App and comes in two colors: Black and Green. It can be bought for Rs. 2,999 here.
Suggested Reading: Infinix Hot 7 Pro to Come with 64GB