Interactive Convergence: The Only Pakistani Company Appraised at CMMI Level 5
Interactive Convergence, an IT and systems integration company, has been successfully appraised at Maturity Level 5 of the CMMI Institute's Capability Maturity Model Integration, the highest recognition to an organization's software quality management system.
Currently, Interactive is the only company in Pakistan to operate at the status of CMMI level 5, and the second one in the nation's history to have achieved this milestone.
Interactive Convergence Company To Operate at the Status of CMMI level 5
This now makes it part of the other 700+ CMMI Level 5 organizations in the world with the same standing, some of which are Lockheed Martin, Raytheon, U. S. Army TARDEC, U.S. Air Force, IBM Global Business Services, Microsoft Global Services Center, Toshiba, NIIT Technologies Limited, Ericsson Global Services, Infosys Limited and Aerospace Winhong Technology Ltd. The top 3 countries implementing CMMI include China, India and the United States.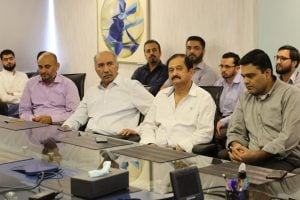 Interactive Group CEO Dr. Shahid Mahmud, said:
"We are proud to be the only national company at the moment that has been appraised at level 5 of CMMI for our healthcare product Intellcare,"
"Our policymakers and healthcare managers need to realize how precious a human life is. No compromise in quality of products should ever be allowed."
The CMMI Institute is the result of more than 25 years of research and effort at Carnegie Mellon University by members of the industry, government and the Software Engineering Institute. The Capability Maturity Model Integration refers to a performance improvement framework for organizations, which comprises of a collection of essential processes that can lead to more innovative solutions to the emerging needs of the business world. It is thereby considered a global standard for efficiency.
Interactive Group was appraised at CMMI level 3 in 2013 (it was at Level 2 since 2009), and an assessment at maturity level 5 indicates that it is now performing at an 'optimizing' level – there is continuous process improvement and the impact of new processes and technologies can now be predicted and effectively implemented when required, which directly impacts marketability and resource/cost efficiency. This accreditation is thus essential, as more and more global customers now require their software implementations to be of the highest quality standard.
Raheel Sheikh, Senior Manager Quality Assurance, explained,
"Every process is now measured to analyze short-term and long-term performance,"
"Activities are defined, measured, analyzed, improved and continuously controlled due to strong statistical understanding of cause and effect. Dynamic planning is incorporated to perform what-if-analysis, and risks are quantitated and integrated within daily activities to help achieve organizational goals and business objectives."
Since its inception in 1987, Interactive Group of Companies has been committed to fulfilling the human hopes for safety, connectivity and good health through innovative software technology and advanced services. It has now emerged as one of the largest technology integrators in the region. It was awarded CMMI level 5 based on its superior accomplishments in IT services, most notably its telemedicine platform called Intellcare. Intellcare, a high-quality, cost-effective and complete hospital suite, was launched to provide medical consultation to patients in remote and far-flung areas of Pakistan.
This customizable product is an integrated healthcare solution that assimilates all departments of a hospital in one enterprise-level application. It is also developed for multi-specialty hospitals to maintain all data of its departments, employees and patients at a centralized database. Intellcare's client portfolio so far includes Pakistan Petroleum Limited, Oil & Gas Development Company Limited, Combined Military Hospitals, Dr. Arshad Health Associates, Truce and Zubeda Khaliq Memorial Trust.
Dr. Shahid Mahmud commented,
"Health shocks impact more lives in our society than any other shock,"
"Without digital transparency of our healthcare systems, we will remain slaves to a perpetual poverty cycle. Evolutionary software addressing customer needs and technology enhancements balance needs to be documented. What cannot be measured cannot be managed for life-long sustainability."
Being appraised at CMMI level 5 validates Interactive's efforts towards consistently delivering excellence, quality service and the best value to its clients. It also serves as solid benchmark for Pakistan to achieve further growth and operational excellence by building its people and process capabilities as per international standards.
Also Read : Google Map Removes Ability to Book Uber Ride Directly From App