Jazz Security App-Clean Master, Vault And Firewall, All At One Place
Powered By Avast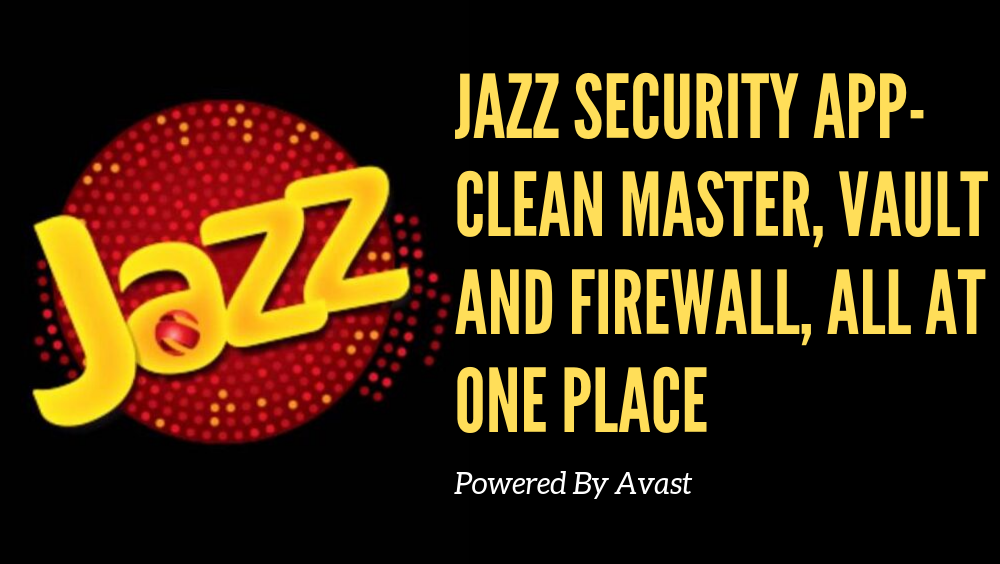 One of Pakistan's best network and internet provider, Jazz, has recently launched Jazz Security App which is said to be Clean Master, Vault And Firewall, all at once place in a single mobile application powered by Avast. In here, we will be discussing: What are the features of Jazz Security App? and is the Jazz Security App safe to use?
Features Of Jazz Security App
The Jazz Security App offers the following features:
Antivirus Engine:
Automatically scan for viruses and other kinds of malware, including spyware, Trojans, and more. Web, file, and app scanning provides complete mobile protection.
App Insights:
Discover how much time you spend using each app on your device and take back control of your phone-life balance.
 Junk Cleaner:
Instantly clean out unnecessary data, junk files, system caches, gallery thumbnails, installation files, and residual files to give you more space.
 Photo Vault:
Secure your photos with a PIN code, pattern, or fingerprint password. After moving photos to the Vault, they are fully encrypted and only accessible to you.
 Call Blocker:
Stop unwanted callers from interrupting your day. Automatically block spam or add phone numbers to your blacklist to prevent them from contacting you.
 Web Shield:
Scan and block malware-infected links, as well as Trojans, adware, and spyware (for privacy and safe Web browsing, e.g. Chrome). It also fixes mistyped URLs.
 Wi-Fi Security:
Check the security of public Wi-Fi networks and email messages, browse safely, and make secure online payments from anywhere.
 Wi-Fi Speed Test:
Check the speed of your Wi-Fi network.
 Power Save:
Reduces your device's battery consumption by adjusting battery-draining settings such as Wi-Fi, data synchronization, Bluetooth, and screen settings.
 RAM Boost:
Finds programs, that are not in use, but consumes operational memory, and helps you to get better performance from your device.
Is The Jazz Security App Safe To Use?
There have been arising a number of questions regarding the security of the Jazz Security App itself. Is Jazz Security App able to access our data? Well, unfortunately, all the third-party apps do so. Thus cannot be trusted fully. However, Jazz has earned a reputed name in Pakistan. So, we do not expect Jazz to introduce a spy app or spam. A corporate as superior as Jazz won't risk its reputation at any cost. The Jazz Security App has as much access to your data and personal information as any other third-party security app. So why doubt Jazz alone when you already use other third-party apps? And I ensure this one's way better!
Check out: Data Encryption And Third-Party Apps
So, Download Jazz Security App today and avail all these amazing features and much more!