Launch of ILM Association Puts Innovation at Heart of Improving Education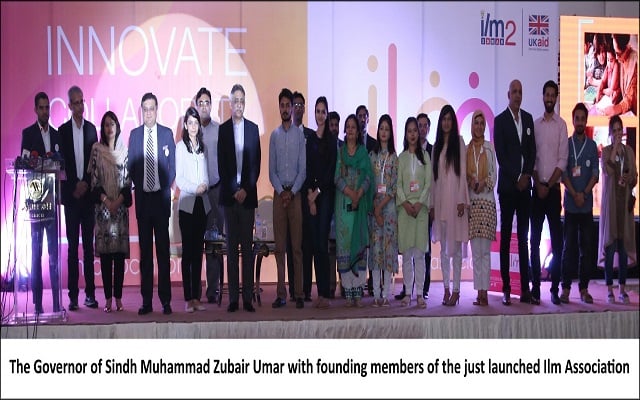 The Governor of Sindh, Muhammad Zubair Umar, was the Chief Guest at the launch yesterday of the Ilm Association, a newly formed trade association founded by 11 of Pakistan's most notable education innovation enterprises.
The event was attended by more than 200 representatives from government, private schools, business and corporate CSR and the education and startup communities in Pakistan.
Ilm Association Puts Innovation at Heart of Improving Education
Speaking at the launch event, the Governor noted that,
"It is time to decide how important education is to our nation's narrative. The Ilm Association can play a critical role as the go-to platform for home grown solutions to help improve education in Pakistan".
He went on to encourage the business community to invest in education and graciously offered to be an ambassador for the Ilm Association.
The Ilm Association aims to innovate, collaborate and educate. It will focus on market development, promoting innovative education products and services and on building support for education innovation in Pakistan from the public and private sector.  Membership is open to a wide range of organisations interested who want to innovate and collaborate to create sustainable change in education in Pakistan.
The founding members of the llm Association are all graduates of the Ilm Ideas 2, a programme in Pakistan funded by the UK's Department for International Development (DFID), and managed by Cambridge Education, a member of the Mott MacDonald group.
Chris Carter, DFID's education programme team attended the event and shared his remarks;
"Innovation must be at the heart of development if we are to achieve the Global Goals. The formation of the Ilm Association, bringing together enterprises that improve education for the poor, is a step forward and an opportunity for Pakistan to lead the way in this field".
About ILM Association
The Ilm Association is a pioneer trade association formed to represent Pakistan's growing domestic education innovation industry. The mandate of IlmA is to become the collective platform for innovative, home grown solutions that improve education in Pakistan.
Also Read: Apply NOW to NIC Hackistan – A Hackathon for Education