Lenovo Z5s Official Promo Images Reveal Three Color Variants
Lenovo Z5s is all set to launch tomorrow. The upcoming device will land with 8 GB RAM and a triple-cam setup on the rear. However, just ahead of launch the VP of Lenovo revealed the color options of Z5s on Weibo. Chang Cheng has Posted the Lenovo Z5s Official Promo Images on social media. These images revealed the glass back of the upcoming smartphone will come in three color variants – Black, Purple, and some sort of Gold/Pink/Orange Gradient.
Lenovo Z5s Official Promo Images Reveal Three Color Variants
In the images, we can see that the black Lenovo Z5s is plain. The phone got a classic look. We can see in the images that the phone comes with the USB-C port and 3.5 mm audio jack. The phone's rim is dark blue, so that's why we can't called it pure Black.
The second version is quite amazing and comes in such a unique color option which we never seen in other phones yet. It is a gradient starting from pink and gradually getting to bright orange. The phone's rim is Rose Gold. We can call it Sunrise Gold/Pink.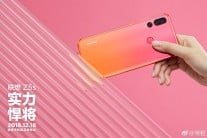 The another color option is purple. It is also a unique color option in its own way. This color variant has microdots that reflect the light in a different way. It gives rainbow glares to the back panel of Lenovo Z5s
The price of  Lenovo Z5s is unavailable at the moment but as it is going to launch tomorrow so we will also get to know about the price at the time of the launch.