LG Dual Screen Phone has A Detachable Screen
When all the smartphone giants are running after foldable phone, LG has a better idea to be unique. Yes, LG dual screen phone with the detachable screen is all over the internet. On the other hand, Samsung and Huawei are trying to launch a hingeless phone with flexible displays but LG has a different approach to the foldable phone solution.
LG has shown off a two-screened smartphone following earlier reveals by Samsung, Huawei and Xiaomi. LG has created a second display as a detachable accessory. The device does not look elegant but is a cost-effective solution.
The 6.2in (15.7cm) V50 ThinQ handset and its matching Dual Screen add-on both use OLED (organic light-emitting diode) technology.
At the MWC Barcelona press event, LG revealed that the two screens will provide a touchscreen control pad for video games. Another best thing about this device would be a group call set-up in which a caller could see two other participants full-screen. This dual screen device will be a must-have for Vloggers who could see the footage they were capturing on one display and comments from their followers on the other while live streaming on YouTube.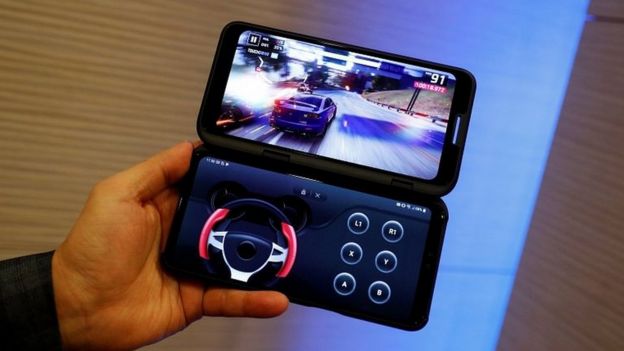 Right now LG has not revealed the release date of the device however we do not know about any specification instead of 5G compatibility and three rear cameras. The announcement came at LG's press event on the eve of the Mobile World Congress trade show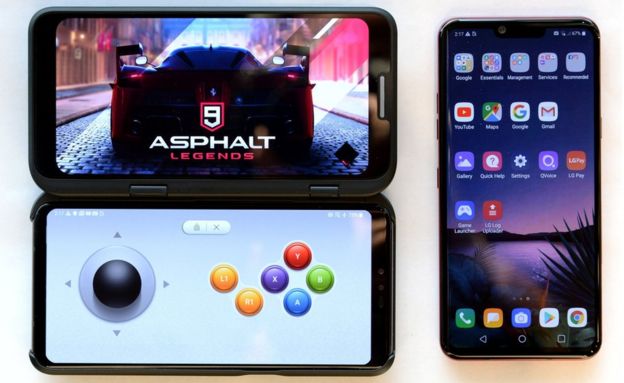 Moreover, LG is also working on the real foldable phone. LG VP of marketing, Frank Lee, confirmed that any kind of foldable or rollable device from LG will be released under its LG V series name. V series is focusing on bringing new features in town, so LG first rollable or foldable device will definitely launch from that domain.