March-April, 2017 Issue of PhoneWorld Magazine Now Available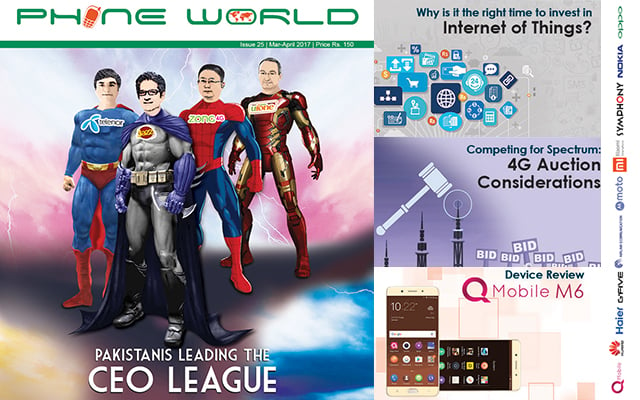 We are at the crossroad of another historical event as the preparations for next spectrum auction are already underway. This time PTA has announced the auction of remaining 10 Mhz of 4G spectrum in 1800 Mhz band. This last 4G auction is quite important as it will pave the way for eventual evolution to 5G. Whoever wins this auction will get a stronger position in broadband market. We have tried to build up scenarios for each operator to determine how it can benefit from the additional spectrum. You can read the detailed analysis in our article "Competing for Spectrum: 4G Auction Considerations".
PhonWorld Magazine is the only print magazine in Pakistan that focuses on the local industry and highlights the growth of our ICT industry. The blogs/article and news on our website provides trusted facts and information you can count on, we strive for depth, accuracy and improvement in each blog/article.
In our interview section we have two exclusive interviews this time. The first interview is of Gordon Readman and William Rudolph from GSMA Marketplace. In a short and conclusive session with our team they gave an insight on how businesses can make use of GSMA Marketplace to expand their business. While in our second interview session we have discussed the Nokia's revival with Patrick Mercanton, Head of global marketing strategy & planning at HMD Global.
Our feature article this time is the sequel of our previous article in which we have evaluated and ranked the CEO of each mobile operator as per his achievements and qualities.
Phoneworld team has done an extensive research to benchmark the mobile leadership by setting few HR parameters and appraised each leader accordingly. Our second feature article deals with Internet of Things and how it will shape the future. In one of our article we have also discussed the rise of Chinese smartphone brands in the world and more specifically in our local market. The focus of this article is on the distinctive features of Chinese brands that have enabled them to capture bigger portion of the market.
Our regular sections include phone reviews, Smart moves, TVC reviews, top applications, tech twist, personality corner and smartphone wish list. We always try to bring something new and interesting for our readers, we hope you guys will appreciate our efforts and give us your feedbacks so that we can improve further.
To Download our Latest Magazine of this month Please click: PhoneWorld Magazine
Keep yourself up to date with all the latest information and trends. We want to take you beyond imaginations.