NayaTel and Microsoft Technology Partners of the IEEE PSYWC'15 at COMSATS Islamabad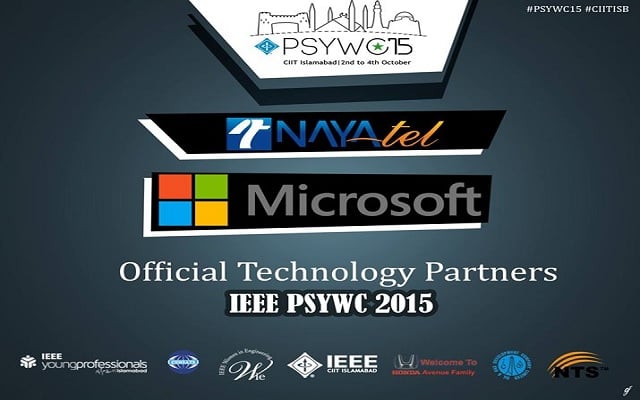 NayaTel and Microsoft Technology Partners of the IEEE PSYWC'15 at COMSATS Islamabad. The event was held at COMSATS institute of Information and Technology, Islamabad from 2nd of October to 4th October.The event was a huge success as 532 participants from 18+ cities all over Pakistan including universities from Faisalabad,Lahore, Karachi, Abottabad, Peshawar, Quetta etc.
NayaTel is a private company connected to Micronet Broadband (Pvt) Ltd. (MBL). The first broadband service was provided by them back in July 2002 in Pakistan.The company along with Microsoft were the official media partners for the three day event- The 9th episode of IEEE (Institute of Electrical and Electronics Engineers) PSYWC (Pakistan Student/Young Professionals/Women in Engineering) Congress 2015.
NayaTel and Microsoft Technology Partners of the IEEE PSYWC'15 at COMSATS Islamabad
Free Wi-Fi  from NayaTel was also available during the whole event to connect students at Snapchat, Facebook, Instagram and Twitter so that they could share their experiences and views socially. Hashtags for IEEE, PSYWC15 were used to highlight the event.

NayaTel's CEO Wahaj Siraj was invited to give a keynote speech on the very first day of the event. He congratulated the team of  IEEE CIIT Student Branch for organizing such an amazing event in Islamabad. He praised the efforts of organizing team and showed gratitude that NayaTel was also a part of such event.
Along with that Mr. Syed Abdul Wahab the Security and System Engineer at Nayatel was also invited to share his success story and motivate youth on leadership skills. The basic motive of his speech was an African Proverb "The writer will always glorify the hunter until the lion learns to write ".
Many star personalities were present there to glorify the event, some of them were Mr. Mir Muhammad Ali Khan, Mr Farhan Masood. They also shared some valuable pearls with the audience. More information of the speakers along with their profiles is available at this link.
Microsoft also participated at its fullest in the event. They organized the session on the topic "Microsoft Offerings in Academic Space", the students who participated in the session were also awarded with participation certifications.
Award ceremony was also held at the the third day of event in which winners of different competitions were awarded. The best blogger award was held by Fatima Rizwan from Techjuice. Congratulations !!
All n all the event was a huge success Almost all the IEEE members such as chair persons, vice chair persons, Dr Shahab Siddiqu Vice Chair Karachi and Chair Karachi branch Mr. Parkash Lohana also shared his views at the evnt other than this many enthusiastic students participated in it to make the event a success worth mentioning.