NIC Hosts "Entrepreneurship" Speaker Series in Partnership with US Embassy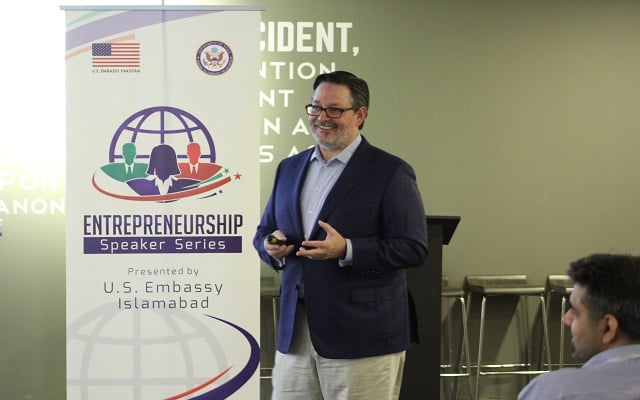 The National Incubation Center (NIC) hosted a session on "Do's and Don'ts of Starting a Business" delivered by America's best- selling author, columnist, Rhett Power. The session is part of the "Entrepreneurship" speaker series in Pakistan, at the NIC, in partnership with the US Embassy. NIC Hosts "Entrepreneurship" Speaker Series in Partnership with US Embassy.
In the session, Rhett Power talked about various elements on becoming a successful entrepreneur, the challenges entrepreneurs struggle with and how to grow as a sustainable business. During his presentation, he also shared his experiences with the startups on how developing a business strategy is essential for being a successful entrepreneur.
NIC Hosts "Entrepreneurship" Speaker Series in Partnership with US Embassy
The session created an opportunity for the startups at the NIC to connect with the presenter, exchanging thoughts and ideas as well as their experiences of running their startups.
Acknowledging the efforts of Pakistani entrepreneurs, Rhett Power said:
"Whether in the United States or Pakistan, entrepreneurs face similar challenges in figuring out how to take an idea and turn it into a successful business. As the first speaker in the Entrepreneurship Speaker Series sponsored by the U.S. Embassy, I had the opportunity to share my experiences with bright, energetic Pakistani entrepreneurs, and to learn from them, as well. I hope this will encourage greater partnership between U.S. and Pakistani entrepreneurs."
Power said.
"It is encouraging to see the partnership we are building with the U.S embassy, opening windows of opportunity for our startups to learn and to grow, this is just the beginning and we are looking forward to establishing a long term relationship with the embassy."
Said Project Director, NIC, Parvez Abbasi. Mr. Abbasi is also the co-founder of TeamUp, managing partner with Jazz xlr8 for the National Incubation Center.
 About Rhett Power
Rhett Power is the best –selling author, entrepreneur, executive coach, columnist at Inc. and success Magazines. Rhett Power co-founded Wild Creations in 2007 and quickly built the startup toy company into the 2010 Fastest Growing Business in South Carolina. Wild Creations was awarded a Blue Ribbon Top 75 US Company by the US Chamber of Commerce and named as one of Inc. Magazine's 500 Fastest Growing US Companies two years in a row.
About The NIC
The National Incubation Center (NIC) is a technology hub launched under the unique public-private partnership of Ministry of Information Technology and Telecom (MOITT), National ICT R&D Fund, Mobilink and Teamup. The NIC will provide startups with a free of cost workspace, incubation, acceleration (the JAZZ XLR8 program), seed funding and access to 50M mobile customers. For more information on NIC, please go to: www.nicpakistan.com
About TeamUp
Teamup is an incubation and acceleration platform working with young entrepreneurs and startups. Teamup is also managing the National Incubation Center in collaboration with Mobilink Jazz, the leading mobile operator with over fifty million subscribers across Pakistan. For further information visit us: www.teamup.pk
About Jazz xlr8
Jazz xlr8 is laying the foundation for a sustainable technology ecosystem, and will provide resources and expertise to help young entrepreneurs fulfill their potential, and grow their communities. It is a first of its kind technology hub, launched under the public – private partnership of Ministry of IT & Telecom, National ICT R&D Fund, Jazz & Teamup. For further information visit: jazzxlr8.com.pk