15 Zero Investment Business Ideas In Pakistan
No Investment, High Profit.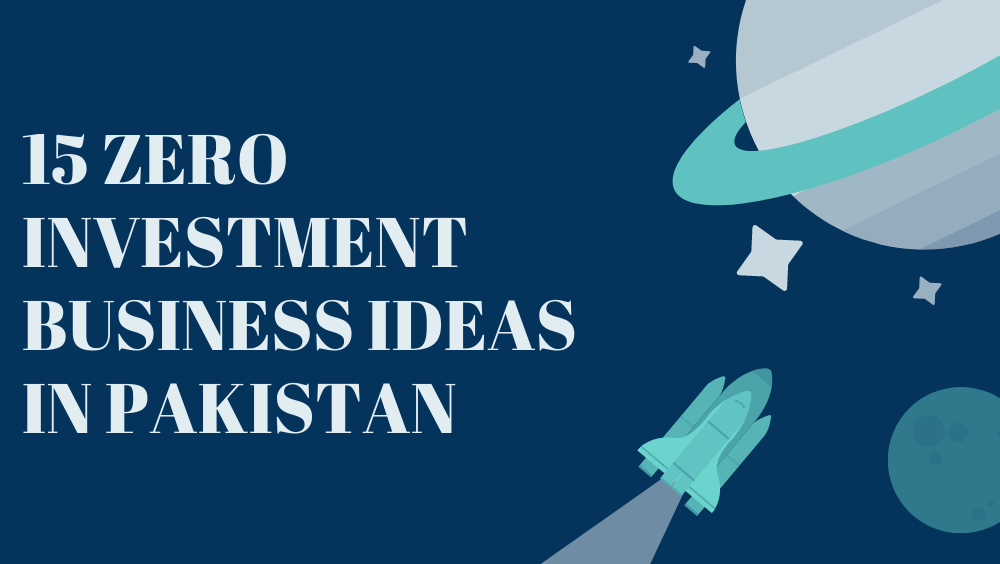 Earlier I wrote about the 25 low-investment business ideas in Pakistan, and repeatedly I have been asked to write on no investment business ideas. So, here they are at your service. These 15 Best, Zero Investment Business Ideas In Pakistan are meant to be skill-based startups or jobs that require no experience or education. Here, the only thing you need to invest in is yourself!
1. Mehandi Artist
Mehandi is one great skill to learn in order to start your zero investment business. And this profession is now not even gender-biased. If your skill is up to the mark you can work for renowned salons, create your identity and get highly paid.
2. Makeup Artist
I need not brag about it. Makeup is one successful and lavish field to be in. Makeup artists are of much value today. If you have the skill you can either work for a salon or work at your own home. This may be the most profitable, zero investment business today.
3. Freelancing
Many people don't know what freelancing is, here is a short intro. Freelancing is basically any online service i.e: Content writing, proofreading, ghostwriting, pdf to word file converter, graphic designing, digital marketing etc.
You see there is a huge audience, a wide variety, the luxury of working from home and a zero investment profitable business for Pakistan as you get to bring money into Pakistan from around the globe.
Learn digital skills online with DigiSkills.
4. Carpenter
A traditional carpenter is understood but what I am talking about is more of a Wood crafter or a wood designer/ artist. There is always room for art as a luxury and as a touch of elegance. So, if you have this skill at hand why not use it to earn profit with zero investment in Pakistan?
5. Ceramic Designer
Decorative vases, pitchers, bowls and all the high valuable ceramic products may be of much use. They have a huge audience within Pakistan and also can be imported to other countries as Pakistani art and culture is considered to be one of the richest and most beautiful world wide.
6. Art And Craft
There are a number of possibilities to earn through '0' investment in Pakistan if you are an artist. I will list all the possible modes to earn as an artist in Pakistan.
Become part of a wedding decorating team.
Make and sell props and backdrops online.
Handicrafts.
Painting and lead detection in homes, to make sure they're safe.
Sketching.
Singer.
Dancer.
7. Photo and Video Editing
If you are efficient in Photoshop and Adobe Premiere Pro CC or any other video and photo editing software you can work as an editor alongside a photo and videographer or can have an individual setup online.
8. Social Marketing
Not that you have to be a digital marketing expert when you are already a social marketing expert. All of us are proficient in using social media apps. And now there are a number of emerging businesses solely based on social marketing and advertising. You can be that social advertiser.
Here are the Health Rules to be followed by Freelancers.
9. Coaching
You can be a physical or virtual coach. It can be career coaching, business coaching, health and fitness coaching, personal grooming. Anything you are expert at and feel like prolonging your skill to others.
10. Teaching
Home tutoring or academy culture is one of the sole educational modes in Pakistan. Why not avail this zero investment opportunity in Pakistan then? Teach your expertise and earn.
11. Wedding Planners
Weddings in Pakistan is one hectic job to do. And as life is getting busier people tend to hire wedding planners to plan out and arrange everything for them in a given budget. This is a very profitable, no investment business idea to go within Pakistan.
12. Tailor
If you have the skill to stitch and cut cloth you are one valuable person in the Pakistani culture. The profession of a tailor is more important to men and women than anything today. If you are excellent in your skill. You may go to top brands to work for them which will cost you nothing but your skill, or you can even work for small scale cloth sellers. If you wish to evolve this no investment business into your own setup, all you need is a sewing machine and a spare room in your house.
14. Personal Assistant
What can be a more soothing job than being a manager or personal assistant of some celebrity? All you need to do is manage their lives, tell them what to do next and enjoy travelling with them. Same is the case with businessmen and women who tend to be too busy to manage all by themselves.
15. Data Analyst
Target a market place, gather product information and market demand, supply the collected data to product companies, in return earn good profits. And with blockchain technology sneaking into Pakistan, data analysts are soon to gain much more importance.
Hope you find these Zero Investment Earning Opportunities In Pakistan useful.
Other Of My Business-Startups Related Articles: