Nokia Introduces a New Sleep Sensor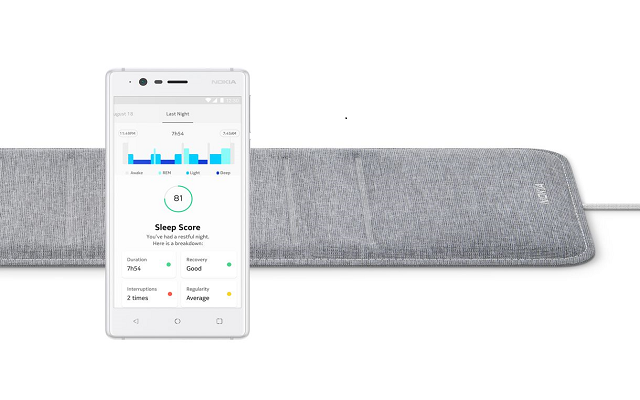 Nokia's health division has announced some new stuff at CES in Las Vegas. There is a new sleep sensor known as Nokia Sleep. In addition to monitoring your sleep, the device will help you trigger actions with IFTTT, that is when you fall asleep and wake up. This new technology is described as an "advanced sensor" and is built into a mattress pad. Nokia Introduces a New Sleep Sensor.
The WiFi-connected mattress pad slides under your mattress and is supposed to record your sleep patterns. The recorded data is then synced to Health Mate app of Nokia, where it is analyzed and contributes to a "sleep score." In addition to monitoring sleep pattern the sleep sensor will also track snoring patterns.
Nokia Introduces a New Sleep Sensor
Nokia has also mentioned that its Health Mate app will now work with Amazon's Alexa. You can shout at your Alexa-enabled product in order to get an update on your health progress from the Health Mate app.
Nokia said:
The Nokia Sleep is designed to be positioned on the side of the bed, at chest level, so it is able to distinguish one's movements and more importantly vital signs (heart and respiratory rates) from the partner's. It's trained the sleep pad's algorithms against clinical data from polysomnography tests.
It is to be expected that Nokia Sleep sensor will be ready to ship in the first quarter of this year, and it's cost will be $99.95 approximately.
Read Next: Nokia 6(2018) Specs Leaked: Here are Key Features