VideoShow- All In One Video Editor
Handy, Non-Professional, Video-Editing Mobile App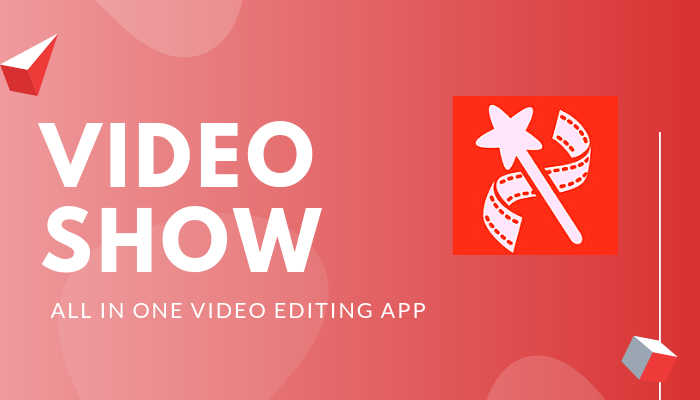 Technological advancement in photography and videography led both to be used as a medium of expressing sentiments. Whether it be your beloved's birthday or any other special occasion. What can be a better gift than to collaborate your moments together in the form of a video and revive all the blurry memories? VideoShow- All In One Video Editor makes your task easy as it a Handy, Non-Professional, Video-Editing Mobile App.
Features:
1.Creating Picture Video:
Easy export of as many pictures as you want from your gallery
Add stunning filters.
Various background music is available. Local songs from your device can also be used
Variety of text styles and fonts to create artistic subtitles are available in this movie maker app/video editor app/video cutter/gif maker/photo video maker with music.
2.Editing Video Clips:
*You can edit/merge/trim/split/reverse/duplicate/rotate/blur/collage clips or videos in this video cutter
 Zoom in and out.
Fast motion/slow motion to adjust and control the speed of every video clip.
 Video dubbing. Add your own voice or sound effects they provide to make the video even cooler.
Doodle on video.
 Video reverse, video playback to make a funny and creative original video/vlog.
Fantastic Materials Center: Themes/effects/stickers/gif images/memes/emojis/fonts/sound effects/FX and more.
Over 50 elaborate themes are available to create an awesome music video/gif maker/ slideshow/vlog/funny videos instantly.
 Multiple kinds of music can be added after pre-defined intervals.
3.Other Features
 Compress Video: You can reduce the size of your video.
 Video to Mp3: turn the soundtrack of your video into mp3 file.
Supports more than 30 languages and almost all devices.
HD export, no quality loss
Easy-to-use photo editor, with a wide variety of functions
Hundreds of pieces of free music all fully licensed
There are no watermark/no ads after updating to VIP.
These were the features of the App now let us get to what the creators' won't highlight and only a user can point them out.
The Cons:
The developers claim it to be a professional video editor which it certainly is not due to various reasons. And such a claim is completely vague.
Unlike a professional editor, you can only add 1 music at 1 interval. And overlapping of those two sounds cannot be well controlled.
In the Clip Edit. It is very difficult to hold and drag each clip all the way to the desired position. It should have rather been select and drop.
There is no option to secure and save the underprocess video as a draft. The App tends to auto-save draft and users are always uncertain of whether it has been saved or not yet.
When the video is completed and exported, the final video has some self-made changes. i.e: the music gets trimmed, timings of the music files are altered. Which is completely unacceptable!
Very Limited Emojis to choose from.
It Can Be Concluded
that as a non-professional video editor; VideoShow is one of it's kind. If only the major issue of alteration in soundtrack after export of the video is dealt with it can prove to be one of the best non-professional, handy video editors.
In order to draft this article, we used the editor several times in order to deliver just ideas. Let us know of any other related information about VideoShow- All In One Video Editor. Or give your feedback.
Also See: 5 Best Video Editors