OnePlus 6 Arrives with Trendy Specs
OnePlus has recently released its latest smartphone, the OnePlus 6 avenger on Wednesday. With the new model the device has landed with trendy specs of 2018 and some new design elements. but overall, the OnePlus 6 is a minor update from its predecessor, the OnePlus 5T.
OnePlus 6 has a 6.28-inch display, the largest one. On screen navigation gestures have introduced, which will allow to navigate the display without the fixed Navigation Bar. OnePlus 6 Mirror Black, Midnight Black and Silk white variants has launched by the company. The limited edition silk white will be available for three weeks.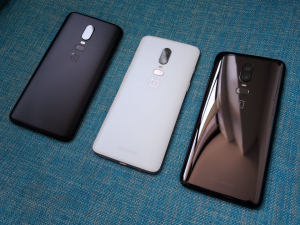 OnePlus 6 Comes with Trendy Specs
OnePlus 6 front camera comes with Portrait mode, that will be pushed out through a software update latter. OnePlus 6 comes with 720p super slow motion mode @480fps. The rear camera is 16MP 20MP still but now has OIS and EIS as well. You will also find a new video editor which will allow you to crop, add music and effects to videos.
Features of OnePlus 6:
1) The latest Snapdragon 845 processor from chipmaker Qualcomm for speedy performance.
2) 6GB to 8GB of RAM for running lots of apps in the background and keeping performance smooth.
3) A large 6.28-inch display.
4) A premium design with narrow bezels around the display.
5) A dual-camera system.
6) Facial recognition to unlock the phone.
7) Quick charging.
8) A decently large 3,300mAh battery.
The OnePlus 6 price starts at $529 (£469) for the 64GB/6GB configuration, however 8GB/128GB variant with a price of $579 (£519), The OnePlus may be not the first phone with all these specs in the same price.