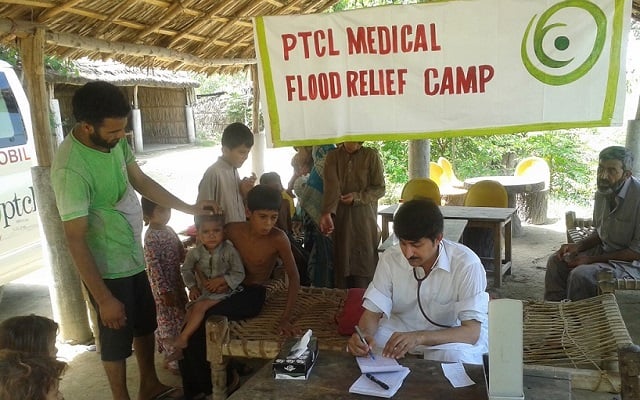 Pakistan Telecommunication Company Limited (PTCL) Sets up Medical Flood Relief Camp in Flooded Areas to provide medical assistance to the affected people.
PTCL Sets up Medical Flood Relief Camp in Flooded Areas to provide Medical help to the affected people.
Various regions of Khyber-Pakhtunkhwa, Punjab and Sindh provinces are affected by the recent floods and need help from others. PTCL in collaboration with local authorities and Pakistan Army has mobilized its resources by setting up medical flood relief camps comprising of PTCL doctors and medical staff equipped with necessary medicines and ambulances to help the people in the flood hit areas.
Imran Janjua, General Manager Corporate Communications PTCL, while briefing the media said,
"The Company's medical care teams are currently providing medical relief services in affected areas of Chitral, Peshawar, Jhelum, Larkana and Sukkur. Medical camps have also been established in various remote areas including the remote Reshun village in Chitral, where initial relief services could not reach as the connecting bridge was washed away by flood waves."
He further added.
 "As a leading national company, PTCL has always been at the forefront while playing its active role as a responsible corporate citizen by creating long term value and also extending support to fellow countrymen affected by natural calamities,"
In addition to the relief efforts, PTCL is also working on communication links to flooded areas. For this purpose, PTCL special teams are also working round the clock to keep communication links active in the flood hit areas so the people can stay connected to their loved ones all the time.
PTCL is trying to take all measures to facilitate the affected people in the flooded areas. The Company also stands with the nation in this hour of need by providing medical flood relief camps in flooded areas.