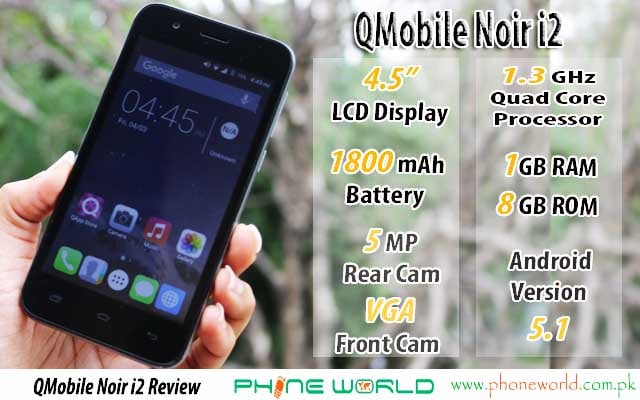 QMobile Noir i2 Review
QMobile introduces Noir i2 that everyone can easily buy, because it's not only within budget but also good in looks. Noir i2 is heavy in weight but beautiful in shape. It has display that provide you good video result of all the videos. Everyone wants a device with wide screen so it has such a screen that you can use for watching videos from a small distance.
Some fast specifications of QMobile Noir i2:
| | |
| --- | --- |
| Resolution |  480 x 854 |
| Memory | 1 GB RAM, 8 GB ROM |
| Processor | 1.3 GHz Quad core processor |
| Chipset | SpreadTrum sc8830 |
| Camera | 5 MP LED Flash Rear Camera +  VGA Front Camera |
| Display | 4.5″ LCD Display |
| Battery | 1800  mAh, Li-ion technology |
QMobile Noir i2 is equipped with 5MP rear cam and VGA front cam that helps you to capture good shots. Everyone needs a device with fast mode that perform well with even less features. Noir i2 helps you to manipulate all the tasks easily. QMobile Noir i2 is running on android version 5.1 that has user friendly interface with the combo of Quadcore processor that clocked on 1.3GHz. Its screen is protected with corning gorilla glass. It is using graphic unit Mali-400 MP  and chipset used by i2 is SpreadTrum sc8830.
Pros and Cons:
Pros:
Less price
Processor clock is 1.3
Friendly interface
Cons:
QMobile Noir i2 has less battery
VGA camera
Short RAM
Design and Display of QMobile Noir i2 Review:
QMobile Noir i2 has gorilla glass corning protection that protect device from breakage and from dust. It has 4.5 LCD display that gives you wide screen to watch videos easily. If you look at the design of the Noir i2 then you will see the camera with LED on the back side of the device. On the one side of the device there is power key as well as the up and down volume keys while on the other side of the device is plane. There is an front cam on the front side of the device. On the top of the device there is a USB port while on the bottom side there is audio jack that is 3.5mm.
Processor of QMobile Noir i2 Review:
QMobile clocked on 1.3GHz with Quad core processor and with the help of 1.3GHz Quad core you can track many apps at the same time without slowing your handset. QMobile has Quad core processor that all the 4 processor helps you to manipulate different apps at a time. Most of the time we need to run different apps at a time such as during playing games you can also uphold other apps while running your game in the background at the same stage you left.
Memory for QMobile Noir i2 Review:
Noir i2 has 1 GB RAM that has QMobile Noir i2 will permit you to stock a lot of your significant data because it has expandable memory up to 32 GB. QMobile i2 has 1 GB RAM and 8 GB ROM that perform well. QMobile Noir i2 has not that enough RAM to operate heavy size apps easily but still it has the capability to make it easy for you to maintain all your daily life tasks. Its performance is better than other set in the i series or other than its pre decessesor.
Camera within QMobile Noir i2 Review:
QMobile i2 has 5 MP rear while VGA front cam that maintain all your events with good shots, although it has less performance camera but you can use it while your gatherings parties or different events. The small camera will help you to do video chat on skype and use your 5MP rear cam to capture your images. QMobile Noir i2 camera will give you the opportunity to take good shots with different effects, it has some features like that make it easy for you to use it with different size, different effect images.
Battery performance of QMobile Noir i2 Review:
QMobile Noir i2 has 1800 mAh battery that will allow you to use your device without delay. QMobile Noir i2 battery will be remain charged if you charge it by the help of provided charger. Noir i2 battery is although not that good but you can never get the same specs phone in such low price.
Out boxing for QMobile Noir i2 Review:
You will provided with charger of such capacity that have capability to charge Noir i2 with short time. Headphones that permit you to continue with your work while listening music etc. You can save your tutorial in your device and while doing work on any project you can get benefit from your phone by listening audio tutorials. You can also get a charging cable through which you can transfer files easily from your handset to any other device that is a big advantage for you.
In-hand images for QMobile Noir i2 Review:
Below mentioned are the side wise dimensions and the look.
External images for QMobile Noir i2 Review:
Interface Experience for QMobile Noir i2 Review:
QMobile i2 has Android version 5.1 (32-Bit) that is well-matched with all the android apps. QMobile i2 running on the operating system that has designed with user friendly interface and anyone can easily operate different apps by using 5.1.
Bench Marking QMobile Noir i2 Review:
We use different benchmarking tools for getting scores for different devices which tells us the status of the device that where it stand in different aspects. Tools or applications used for benchmarking are Vellamo, Antutu and GPU.
Antutu's approach for QMobile Noir i2 Review:
Antutu gives you the result for the device and the basic information of the device. Here are the screen shots.
Vellamo's approximation for QMobile Noir i2 Review:
Vellamo is used for getting scores for the browser of the device, for Multi core and for Metal. Vellamo provide the individual result for the device as well as the comparison with the other device.
[quote_box_center]
Conclusion for QMobile Noir i2 Review:
QMobile Noir i2 is affordable within less price with good specifications. Noir i2 will allow you to maintain all the tasks easily. Like all the other devices of QMobile, Noir i2 is also have that devices which is containing less storage, small camera, short clock on processor but still have the capability to run number of apps at the same time. If you want a low budget phone with good specification then i2 should be your firs choice.
[/quote_box_center]
PTA Taxes Portal
Find PTA Taxes on All Phones on a Single Page using the PhoneWorld PTA Taxes Portal
Explore Now