Release Date of Vivo Waterdrop Phone Confirmed
Vivo upcoming device, code-named Waterdrops is in news due to its mysterious and unique design. The company has shared a poster on Chinese website, Weibo revealing its launch date. The Vivo Waterdrop phone will be shown to the world for the very first time on January 24th in China. However right now it is still unclear whether it will be a commercial launch or commercial launch will take place after few months.
Release Date of Vivo Waterdrop Phone is January 24th
However the image is quite confusing and does not give any idea regarding the design of the device. Even we have no idea regarding the specs of the device. However we expect that it will be something very good and different as Even Blass, a famous leakster had said that this device will"subvert people's past perception of smartphones".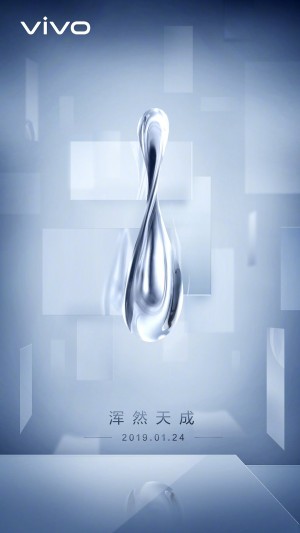 A vivo invite for the waterdrop reveal
Here's what ice universe said about the device:
Crazy phone have begun to leak, it is said that this is vivo a mysterious smartphone code-named "The Waterdrop", this phone will subvert people's past perception of smartphones, this is the back of the phone design, play your imagination.
Coming soon! #CES2019 pic.twitter.com/TNN1ht5NVZ

— Ice universe (@UniverseIce) January 10, 2019
According to rumors, tVivo upcoming phone will encase Qualcomm Snapdragon 855 platform,10GB of RAM and 512GB storage. From the name we can expect that Vivo is probably focusing on a fluid, undisturbed form with the Waterdrop concept, lets see how the cameras will be integrated.
Only the time will confirm all these details. Whereas the most awaited All Screen Vivo Apex with Underglass Fingerprint Sensor will Launch on June 12.