Samsung Galaxy K Zoom Wins EISA Awards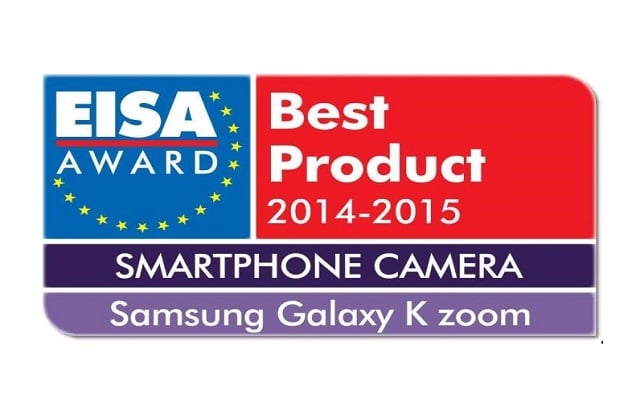 Samsung Wins Multiple European Imaging and Sound Association Awards across Smartphone, Camera and Multiroom System Categories
[blockquote cite=""] Products awarded this year include the Samsung Galaxy K zoom, the Samsung SMART CAMERA NX30 and the Samsung M7 Multiroom System
[/blockquote]
Samsung Galaxy K Zoom Wins EISA Awards
Samsung Electronics Co. Ltd, a global leader in digital media and digital convergence technologies, announced today that the European Imaging and Sound Association (EISA) has awarded the company multiple awards in the following categories: European Smartphone Camera 2014-2015, European Connected Camera 2014-2015and European Multiroom System 2014-2015.
The products awarded this year are the Samsung Galaxy K zoom, the Samsung SMART CAMERA NX30and Samsung M7 Multiroom System, all of which received recognition from the judging panel for their innovative features and impressive design.
[blockquote cite="Sunny Lee, President of Samsung Electronics Europe "] At Samsung we strive to lead innovation and are persistent in making new discoveries designed to enhance consumers' lives. To receive multiple EISA awards from such an illustrious panel of judges really reaffirms to us that we are succeeding in creating market leading products that are truly enriching consumers' lives.
[/blockquote]
The EISA Awards recognize products that demonstrate a winning combination of innovative technology, sleek design and desirable features. The EISA Awards panel of judges comprises editors from 50 consumer electronics magazines across 20European countries.
[info]
EUROPEAN SMARTPHONE CAMERA 2014-2015 – Samsung Galaxy K zoom
[/info] [list style="list3″ color="blue"]
The Galaxy K zoom is the new camera specialized smartphone that blends advanced digital camera technology with Samsung's industry-leading Galaxy experience.
The Galaxy K zoom is equipped with cutting-edge retracting lens technology that provides 10x optical zoom in a remarkably slim and chic design.
It also features 20.7 megapixel BSI CMOS sensor, Optical Image Stabilizer, Xenon Flash and 4.8-inch HD Super AMOLED Display to ensure crisp and sharp photos, even in low light.
The compact and highly portable Galaxy K zoom also features an ergonomic grip and sleek, stylish lines that feel soft and comfortable when held.
[/list]
As the first camera-specialized smartphone, EISA judges commented: "The 20.7‐million‐pixel BSI CMOS sensor behind the lens exceeds the resolution found in many standalone compact cameras, and it delivers great picture quality, especially in low light.
For more information about the 2014/2015 EISA Awards, visit http://www.eisa.eu
PTA Taxes Portal
Find PTA Taxes on All Phones on a Single Page using the PhoneWorld PTA Taxes Portal
Explore Now