Samsung Galaxy Note 10 Surfaces on Geekbench
As you all know that Galaxy Note 10 is all set to launch on August 7, 2019. For the second time, Note 10 is spotted on geek bench. Note 10 has now passed through Geekbench. Last time it was carrying model number SM-N976B It carries a model number  SM-970F and as rumoured, it is powered by  Exynos 9825 SoC and has 8GB of RAM. Galaxy Note 10 Geekbench score might be alarming for users for one reason.
It clearly shows that the handset is not that powerful as you were expecting.  Exynos 9825 is a serious concern as Samsung will depend on it for processing power. Usually, flagship sets are powered by Qualcomm latest processors and mid-range devices are incorporated with Exynos.
Galaxy Note 10 GeekBench Score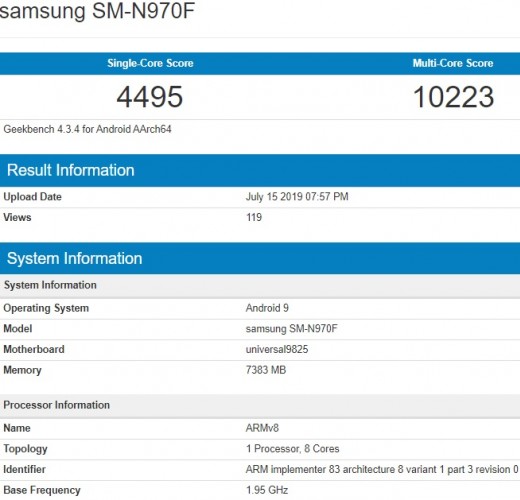 Note 10 also has another variant having  Snapdragon 855 having model number SM-N976V. This model has 12GB RAM. This model has scored less than the SM-N970F in Geekbench's single-core test but got higher points in the multi-core test.
Samsung is all set to launch three devices in Note 10 family named Note10, Note10+, and a 5G version. Note10 and Note10+ have the same designs, but Note 10+ variant has a larger screen.
Pricing Details:
According to rumours, Note 10 will be priced at $1,125), whereas Note 10+ will cost $1,295. Moreover, we have also come across Galaxy Note 10 official teaser videos which reveal that it would be a business phone.
Note 10 Launch Date in Pakistan:
Right now the launch date of Galaxy Note 10 in Pakistan is not known. However, one thing is sure it will take around two months of the official launch to arrive in Pakistan.
Moreover, let's wait for the official launch date to know more about the device.
More about Note 10: