Samsung Galaxy Note 9 Screens have a Horrible Defect
After too much wait Samsung Galaxy Note 9 was launched a few days back. It is already bought by plenty of people who were anxiously waiting for the device to show up. Surprisingly, some owners have spotted a horrible problem with Samsung Galaxy Note 9 screens.
According to some users, Samsung Galaxy Note 9 displays have some signs of leakage. At the left side of the screen, a light leakage is spotted. Galaxy Note 9 owners are very dishearted and distracted due to this. The problem is seen at the edge of the display where it hits the metal frame.
Samsung Galaxy Note 9 Screens are exhibiting signs of light leakage 
After the news broke up, many Samsung Galaxy Note 8 and Galaxy S9 users reported witnessing same issues with their phones.
However, there are some die heart fans of Samsung galaxy note 9 who believe that this is not light leakage but it is an illusion that appears due to curved screen and reflections within the display.
Moreover, Samsung has not done it on purpose as not all Galaxy Note 9 units have this issue. Maybe this is due to the way Note 9 is painted while manufacturing.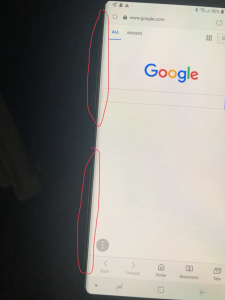 Samsung is looking into people responses to the device and will get back soon with a statement. This is not the first time Samsung has witness such problems in their devices.
As we all know that Samsung Galaxy Note 7 had caught fire. Due to which Samsung has to stop selling and manufacturing the Note 7. After bearing such a loss, one more Samsung smartphone had suffered from the same problem: Galaxy J5. Well let's see what Samsung has to say about the issue.
In meanwhile, if you witness the same issue with your galaxy note 9 screens, lets us know in comments below.
Also Read: Samsung Galaxy Note 9 Price in Pakistan, Complete Specifications