Samsung Level U; Worth Purchasing Or Not?
Level U; Wireless Headphones
Of all the sugar-coated delicacies you have been coming across about Samsung Level U let me for once and for all consider, evaluate and present to you The Pros And Cons of Samsung Level U after personal use of around a year. I will go into details of each of its features and discuss what it lacks that makes it a little off sometimes. Let's get to it!
The Design
Pros:
It is beautifully designed.
Comfortable to carry as it wraps around the neck through the magnetic clasps and won't fall down.
The flexible Urethane Joints help to wear and take off the device easily.
Ear Gels are soft and won't hurt the ear no matter how long you wear them.
Control buttons include Volume Up(Serves as 'Rewind' if pressed for long), Volume Down( Serves as 'Forward' if pressed for long) And Play/Pause(Serves as 'Next Track' if pressed for long).
The buttons are placed at a satisfactory, reachable position.
Cons:
The flexible urethane joints prove to be a weaker point and the headphones tend to break from this joint if not treated with immense care.
The neck piece designed with a hinge at both its side for the joints and a thicker middle body part makes it difficult to lay down straight while using the headsets. Isn't that what the headphones are made for after all?
While the earpiece is plugged in and working out or mild running may cause the device to fall back off the neck which needs to be corrected and held continuously but there's not much the company can do about it so let's not go too hard on them.
The Ear Gels fall off all the time. I lost the pair that was already attached and then used another pair that came along and now struggling with the trauma of not losing them someday. They keep on coming off!
The Sound
Pros:
Perfect sound Quality, it never gets distorted.
Mostly, the sound is contained within the headphones.
Cons:
Oh, I am so disappointed by the sound. It bugs to the extent that I keep on pressing the Volume Up button knowing that it is not doing anything. It may be for the safety reasons but sometimes the sound feels like below satisfactory. When I bought them I thought of the ideal headphones which take you to a new world when worn but to my disappointment.

Level U when worn

As shown in the above picture the mouthpiece seems to be too far away from the mouth and because of it while communicating over Samsung Level U one needs to either tilt the head down a bit or hold the mouthpiece closer for the person across to hear properly.
Connectivity
Pros:
Are WIRELESS! Connects over Bluetooth.
Can be connected to 2 devices at once.
Cons:
The distance of connectivity is as if the device is in a room and you move to another room with the headphones the sound will begin to break and eventually connection breaks.
If Level U gets wrapped up by some thick clothes you are wearing around the neck even this causes sound breakage showing weak connectivity.
In the presence of another Bluetooth device, it keeps on asking for permission to connect if already paired.
Charging And Battery Time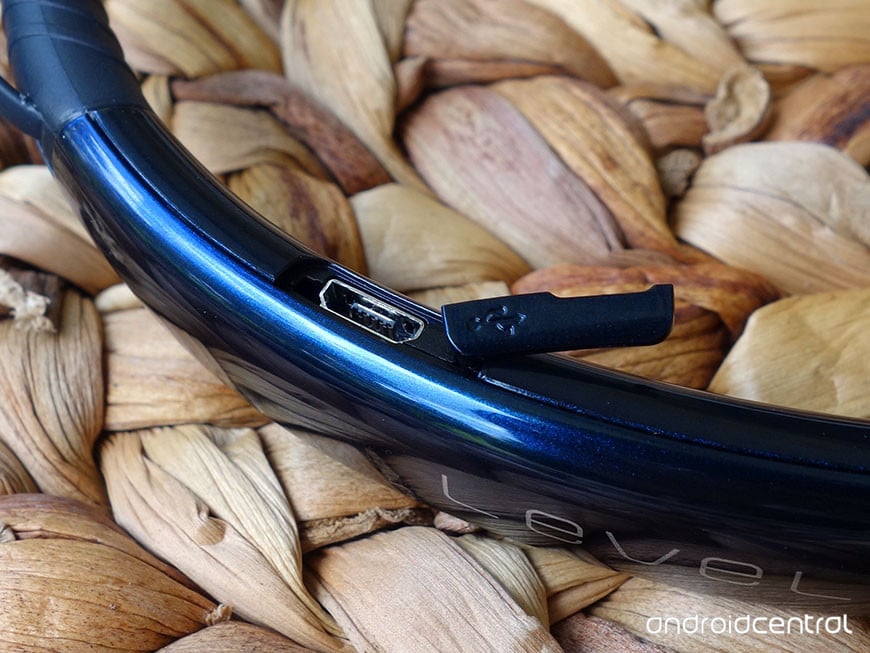 Pros:
This is actually the most appreciated feature of Samsung Level U, that it has a wonderful battery life! Charge for once and use 1 and a half day straight.
The charging pin is not something fancy, but compatible with the normal android chargers.
The Red light indicates 'charging', which turns Blue to when fully charged.
Cons:
Let's be honest and give this point to them. NO CONS DUDE!
Final Verdict
So, If it is my opinion under consideration than I may recommend these if there is nothing better available. It is indeed a good addition to the world of technology but not up to the expectations we had from Samsung and they did realize it thus introduced the Samsung Level U Pro later on. Will review it when I get my hands on it!