Telenor names Michael Foley as new CEO of Telenor Pakistan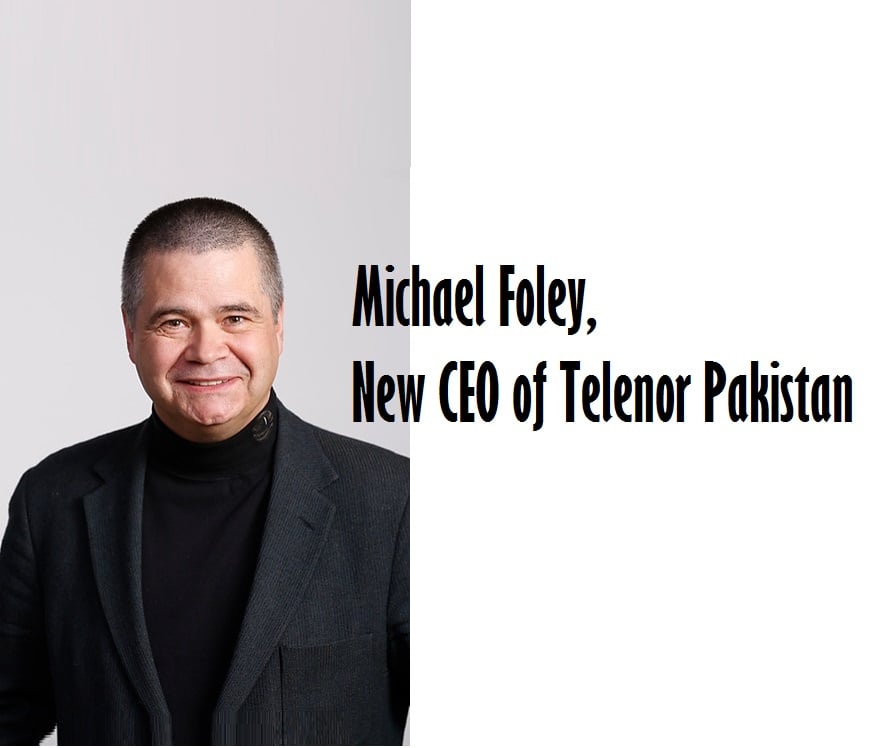 Telenor names Michael Foley as new CEO of Telenor Pakistan
Telenor Group today announced that it has appointed Mr. Michael Patrick Foley as the new Chief Executive Officer of Telenor Pakistan. Mr. Foley assumes the role at a significant moment in Telenor Pakistan's history – as the country moves into a future where everyone will be able to access the internet, affordably and easily. He replaces Mr. Lars Christian Iuel who has built a strong market position for Telenor Pakistan, an agile management team and a competent organization ready to capture further market growth. The replacement takes effect from July 1, 2014.
Mr. Foley, a Canadian citizen, has more than 30 years of sales, marketing and operational experience in the telecom and retail sectors from both advanced and growth markets. He has lived and worked in more than 11 countries. Mr. Foley currently serves as the Chief Commercial Officer of the Canadian State Lottery, Atlantic Lottery Corporation.
Sigve Brekke, EVP and Head of Region Asia, Telenor Group, said:
[pull_quote_center]I am very pleased to welcome Michael to Telenor. His knowledge and experience within telecom, internet and mobile financial services make me confident that he will drive new innovation, quality mass market services and strengthen Telenor Pakistan's capabilities in delivering internet for all. With Michael's leadership qualities and vast international experience I am certain that we will continue to see strong results from the Telenor Pakistan team going forward.[/pull_quote_center]
Mr. Foley takes over the helm at Telenor Pakistan at a time when the company continues to grow its market share and is set to further develop its leading consumer internet position with the recently awarded 3G license.
He added:
[pull_quote_center]I look forward to taking on the exciting challenge of joining Telenor Pakistan at this important moment. When the country now firmly transitions into a digital future, Telenor Pakistan is well positioned to provide both new and innovative data-based services as well as best-in-class voice and SMS. The people of Pakistan should expect to see growth in internet penetration during the years to come, to the benefit of individuals, the business community and the society at large. I am impressed with what I've learned about the Telenor Pakistan organization and its performance.[/pull_quote_center]
Since its launch in 2005, Telenor Pakistan has built a customer base of 35 million and ranks as the second largest operator in the country. During his nearly six-year tenure, first as CMO and then as CEO, Mr. Lars Christian Iuel has been instrumental in delivering strong market and financial performance.
Sigve Brekke said:
[pull_quote_center]We are grateful to Lars Christian for his leadership over many years, both as a CMO and for the last 2.5 years as the CEO of Telenor Pakistan. Lars Christian leaves behind the most competent and agile telecom management team in Pakistan. He has built an attractive brand for Telenor and every day, more Pakistanis are choosing Telenor as their preferred mobile operator. I wish him all the best in his new role[/pull_quote_center]
Mr. Iuel will take up a senior management position in Telenor Group in Norway.