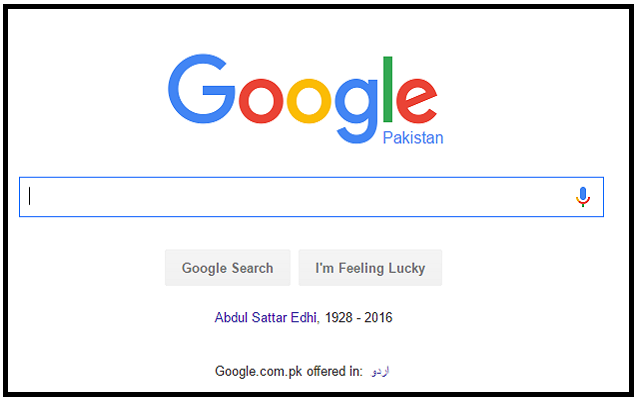 Google is honoring the legendary social activist Abdul Sattar Edhi today by highlighting Edhi's name, date of birth and death.
Keeping up with the tradition, Google has not only presented tribute but also if we click on the hyperlinked name of Edhi Sahab on today's Google page, another page with all information regarding Abdul Sattar Edhi, will open in front of us.
Thank you Google for Paying Tribute to the Legendary Abdul Sattar Edhi
Not only in Pakistan, in fact the entire world is shedding tears on the sad death of Abdul Sattar Edhi; the renowned savior to humanity. Condolence messages from across the whole world has continued from yesterday in order to show respect and love for this irreplaceable loss.
In respect, the lovers of Edhi have made #Edhi the top trend on social media sites Twitter, Facebook etc.
In the present advanced socially connected world, tributes can be paid more easily. That is why Google has always choose to pay the tributes through such efforts in order to admire the great personalities like Abdul Sattar Edhi; whose death has left the entire humanity orphaned. RIP Abdul Sattar Edhi.
Also Read: Pakistanis Pays Tribute to the APS Victims on Social Media