The OPPO F9 Wows With An All New Gradient Color- The Jade Green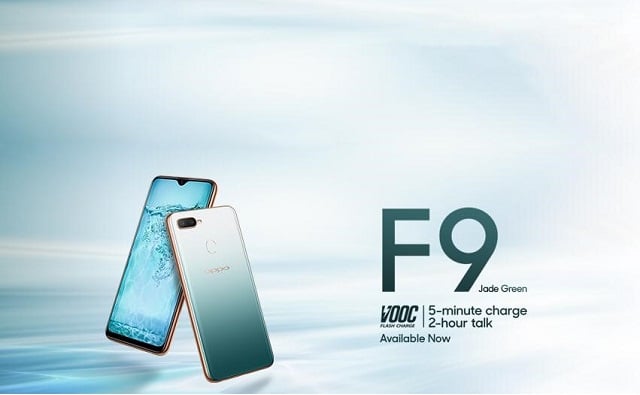 New Year calls for a new beginning and Smartphone Brand OPPO has seized the opportunity and tapped into the market with a new color variant that has taken our hearts already! After shaking the market with the hit Starry Purple, the mid-range champion, OPPO F9 has launched yet another color variant- Jade Green. OPPO has released this variant as a limited edition which means it will be available for a limited time.
Meet the New Jade Green of the OPPO F9
This new color variant has been introduced to bring variety to the youth and enable them to choose a color which goes with their personalities.
Jade Green is the color of nature and offers freshness, something which appeals to the young audience. This brand has been continually bringing something new to the table which adds to its popularity as well as ensuring F9's relevance.
Its breathtaking exterior, groundbreaking technology and the diversity in color options have always made F9 a popular choice among the audience. The new, Jade Green limited edition, reminds us of lush green forests and inner peace, it is something you absolutely want to get your hands on! It'll make an excellent gift, to others as well as yourself!  Jade Green alone as a color has many characteristics defining its significance and importance. "Growth" and "Balance" are two characteristics of color green. For this Jade Green variant, we can see a perfect amalgamation between white and green.
OPPO F9 apart from being known as an exquisite device thanks to its design and almost NO bezel Waterdrop display is also a complete Smartphone package with amazing technological brilliance built in. We all remember that PURPLISH TVC, don't we?  Yes you've guessed it right; it is the same OPPO F9.  If you are tired of not having an option to charge your phone faster, this is the product you want to invest in! Equipped with the VOOC technology, a 5 minutes charge will last you 2 hours' worth of talk time without damaging the battery at all! It's all our dreams in one device.
Not only is it technologically amazing, but the phone also happens to be visually appealing as well. The Waterdrop screen design is a beautiful feature; a 6.3-inch FHD+ display with just a tiny notch, inspired by a water drop that is about to fall, is creativity at its best. Aside from this, only the front camera is present on the screen and this has enabled the F9 to achieve a screen-to-body ratio of 90.8%.
OPPO has always given its users the best, both in design and technology. The brand is all about catering to the user experience and does so brilliantly. We are totally obsessed with this new Jade Green limited edition, you need to get yourself one of these now!