Vakeel.Pk Let You Hire and Recruit Lawyers Online For Legal Services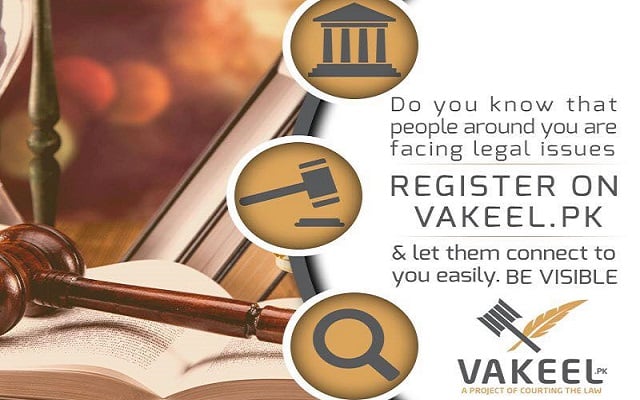 Sometimes, it becomes difficult to find suitable and registered lawyers timely for the protection of our legal interests. To overcome this problem, a new platform, Vakeel.pk, has bee introduced. Vakeel.pk is Pakistan's No. 1 Legal services Platform which allow You to Hire and Recruit Lawyers Online For Legal Services.
Vakeel.Pk Let You Hire and Recruit Lawyers Online For Legal Services
This platform provide you the following services:
Request Lawyer:
You can request for lawyers to protect your legal interests. For this, you need to submit  the details of your legal matter and this platform will identify two lawyers to you.
This platform can arrange a one hour consultation session (meeting; call or Skype) with one of these lawyers.
Obtaining quotes fee: Rs. 5000/-
Live call consultation fee: Rs. 5000/-
Legal Agreements:
You can also get lawyers to draft legal documents for very reasonable fees.
The fees for such agreement drafting work will vary based on the agreement required by you.
Generally the price range will be between Rs 10,000 – Rs 50,000 only.
Corporate Support:
If you want to register your intellectual property rights or transferring shares, this platform will help you in this regard.
The fees will vary depending on the nature of the assignment and will generally range between Rs 20,000 – Rs 40,000 only.
Legal Recruitment:
If you are a medium sized business or law firm, hiring the right in-house lawyer, this platform provide you those.
Case Management:
It is often difficult for non-lawyers to pursue and follow-up with lawyers/law firms regarding their cases and to obtain timely updates. But lawyers on this platform will also alert your appointed lawyers in relation to any upcoming court hearings etc.
Mediation Services:
This platform offers mediation services for amicable, cost-effective and timely resolution of your disputes.
The scope of services can vary from simply identifying a mediator for you or providing the entire set-up for the mediation process.
For More Details Please Visit: Vakeel.pk