Vivo V9 is a super compact smartphone for a 6.3" Display with 19:9 Aspect Ratio
Vivo has recently launched its mid-range flagship phone, the V9 in Pakistan. This phone has made a huge impact in the market being the first affordable smartphone with 90% screen-to-body ratio and a new bezel-less display.
6.3" Display with a pocket friendly design:
The V9 is as compact as a traditional 5.5-inch phone but offers an incredible 6.3-inch screen. The brand-new FullView™ Display technology enables it to have nearly 18% more display area than traditional phones with 16:9 screens.
Vivo V9 is a super compact smartphone for a 6.3" Display
It even has 5.2% more display area than its predecessor, the V7+ which has an 18:9 aspect ratio. The larger screen means an unparalleled visual impact, one that lets you fully immerse yourself while you watch videos and play games.
With side bezels of just 1.75mm, the V9 is as compact as a traditional 13.97cm (5.5)phone, but offers an incredible 15.51cm (6.3)screen, taking phone design from the everyday to the extraordinary.
It offers a FHD+ Display (1080*2280) with IPS Capacitive Touch Screen /incell and 2.5D curved glass for better protection.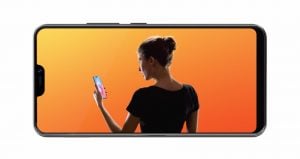 Flip it over and every curve on the ergonomically optimized 3D cover design is carefully polished to ensure absolute comfort in the palm of your hand.
Vivo is pushing the boundaries in Bezel-less Displays:
Vivo has always been focusing delivering the ultimate mobile experience. Their latest APEX concept phone launched in February is the ultimate iteration of future full-screen smartphones. It has no distractions on front and even the fingerprint scanner and ear speaker are embedded inside the screen.
V9 Availability in Pakistan:
The Vivo V9 is available across Pakistan for a price of Rs. 37,999 in Pearl Black and Gold colors, while the company plans to launch the blue color variant next month.
It is worth mentioning that V9 is currently one of the hot selling mid-range smartphone in Pakistan with unique features, no other smartphone brand has offered.
Also Read : Vivo Unveils All-new 'V9' AI-Powered FullView Display Smartphone in Pakistan