Xiaomi Poco F1 Lite Surfaced On Geekbench With Snapdragon 660
Xiaomi Pocophone F1 was launched back in August 2018. It was the cheapest Snapdragon 845 phone at that time so it became quite popular. Recently, we have come to know that Xiaomi is now prepping to launch a lighter version of the handset. The toned-down version dubbed as Xiaomi Poco F1 Lite was spotted at Geekbench today.
Xiaomi Poco F1 Lite Stars At Geekbench with 4GB RAM
The Poco F1 Lite has surfaced on Geekbench with a Snapdragon 660 chipset and 4 GB RAM. According to the Geekbench listings, the handset runs Android 9 Pie. Furthermore, it scored 1,341 and 4,830 points in Geekbench's single and multi-core tests respectively. There had been no further information revealed regarding the handset yet. Let's have a look at the score sheet.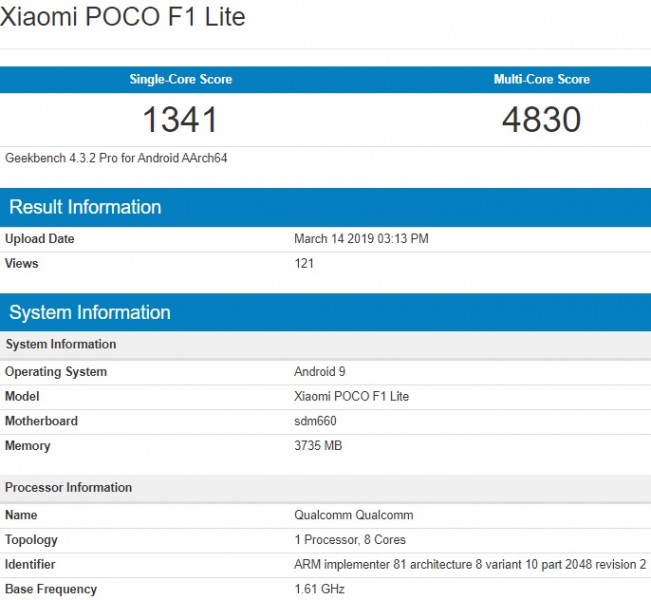 If you don't know the specs of the Poco F1, then here they are. The budget-friendly Xiaomi Pocophone F1 features 6.0 inches' screen that supports 2246 x 1080 pixels. The smartphone comes with an octa-core processor to power it. In addition to that, it sports a ROM of 64GB and RAM of 6GB. Furthermore, Pocophone F1 comes all packed with a dual camera lens of 12MP & 5MP whereas the selfie shooter has a 20MP lens.
The good part is that all the Xiaomi Pocophone F1 specs are up to the mark. Furthermore, the handset has a fixed battery cell of 4000 mAh to keep the lights on. The Xiaomi Pocophone F1 also lets you enjoy gaming at high frame rates. The phone is powered by Snapdragon 845 and supports up to 8 gigs of RAM. It also has the liquid cooling capability with big copper pipe for sustain performance. Let's see what will Xiaomi offer to the toned-down version of the handset.