Zong to Deploy Biometric Verification System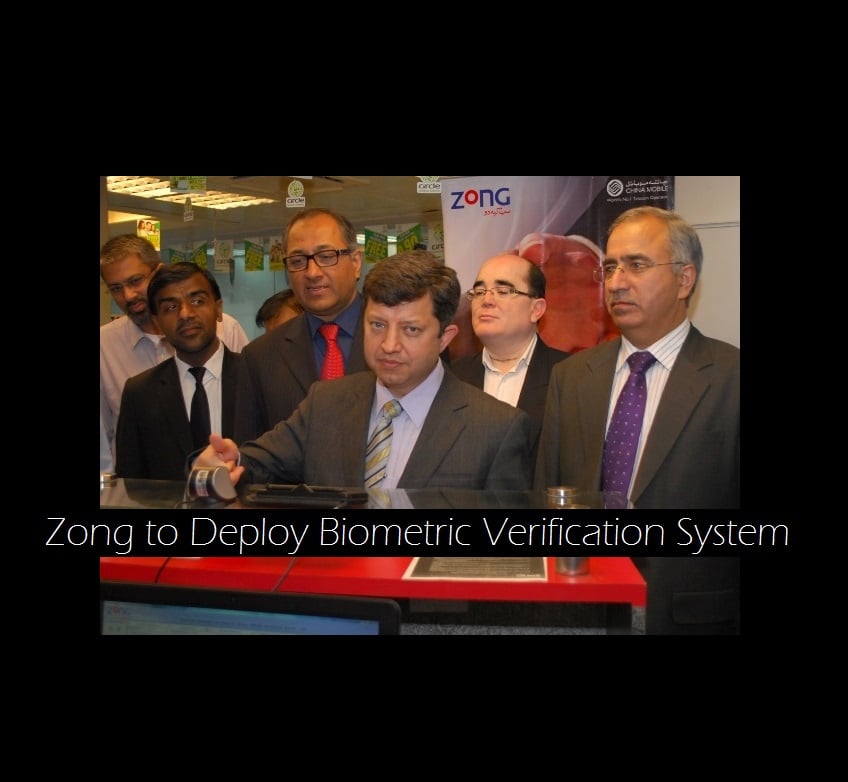 Zong to Deploy Biometric Verification System
Zong Becomes the First Telecom Operator to Deploy Biometric Verification System at their customer service centers
Responding to the increasing need for National Security, Zong CM Pak sets up a precedent in the telecom industry to implement a one of its kind system and enhance customer information protection
The installation of the Biometric Verification Systems displays the commitment of Zong towards PTA directives; highlighting its compliance and contributions in the national policies implementation.
SIM verification mechanisms were first introduced in Pakistan in 2007-2008. Initially, all the SIMs were verified by NADRA through an offline channel.
In 2009, a new method was introduced where customers had to call 789 after inserting their SIM for the first time and verify their NADRA record to activate their SIM.
From 2009 to 2012, a SMS based SIM verification process was introduced in four different phases. However, none of these measures helped PTA overcome the problem of unregistered SIMs.
Hence, PTA is now encouraging telecom operators to start offering biometric system to have a foolproof system to curtail unregistered SIM.
The new verification system introduced by Zong will require each citizen to approach retailer, franchisee or Customer Service Centers of Zong and provide their fingerprints for authentication against CNIC data held with NADRA. Upon verification, the SIM will be activated. The entire operation will be performed online and it will take 15 seconds for the whole process to complete.
Syed Ismail Shah, chairman, Pakistan Telecommunication Authority (PTA) said:
[pull_quote_center]PTA is dedicated to curbing sale of illegal SIMs in Pakistan for which it is working with all the industry stakeholders to ensure seamless implementation of Biometric SIM Verification system. We have defined a set of SOPs for the roll out of this technology through which sale of SIMs will be done in a more secure manner.[/pull_quote_center]
The first SIM activated at Zong's Customer Care Center through the Biometric Verification System was given to Mr. Abdus Samad, DG Enforcement, PTA.
Mr. Sikander Naqi, CPO – Zong said:
[pull_quote_center]Zong is fully committed for the enhancement and improvement of security protocols in the telecommunication industry. Therefore, we have exhibited our corporate responsibility by establishing the Biometric Verification System at our CSC outlets. This technology will be gradually inducted across all franchises and CSC outlets of Zong around the country.[/pull_quote_center]
Since earlier this year, PTA and the Government of Pakistan have emphasized the need to setup technological measures to ensure the protection of customer information and to curb the selling of illegal SIMS in the country. In the wake for boosting national security and addressing the ministries concern, Zong has become the torch-bearer in Pakistan's telecom industry stepping up to the arduous task under the guidelines issued by PTA and with the support of NADRA.
Pakistan has a growing cellular market and the adoption of fingerprint matching technology by cellular operators shall reduce the risk of SIM issuance against fake identity to almost zero and safeguard the sale of illegal SIMs in the country.
ALSO SEE
How to Re-Verify Your SIM through Biometric Verification System
Mobile Users to Pay Rs. 10 for Re-Verification of SIMs