QMobile is launching new smart phones and bar phones with multiple specifications. This time Qmobile has just unveiled its two feature phone Qmobile M85 and M70. These phones are available across Pakistan with their multiple specifications.
QMobile Introduces Two Elegant Bar Phones M85 and M70 at very reasonable prices.
QMobile M85
QMobile M85 is a bar phone with multiple specifications available at very low price of Rs. 2690. 2.4″ QVGA Display will give you a brighter image. You can entertain yourself with its FM radio, Video and audio recording with Audio and Video player. With its 3.5 mm audio jack, you can enjoy unlimited music. M85 has a powerful battery. Now you can use your phone without thinking about battery usage as M85 is giving you 2800 mAh powerful battery.
Other Specifications:
Available at just Rs. 2690
4″ QVGA Display
Smart Camera
Network Supported with GSM 900/1800
Dual SIM
Dimension: 8x53x16 mm
Battery:  2800 mAh
Support upto 16 GB memory
Torch, internet, MRE, Bluetooth, Audio Player, Video Player, FM Radio.
3.5 mm Ear jack,
GPRS/EDGE enabled
QMobile M70
With this newly introduced QMobile  bar phone M70 you will be able to enjoy internet, MRE, Audio Player, Video Player, FM Radio and many more with 2.4 inch QVGA display. Moreover, you will also be having Bluetooth, Edge, WAP and similar features for the connectivity. All these and many more are available in just a single phone of QMobile M70 at a very low price of Rs. 2500.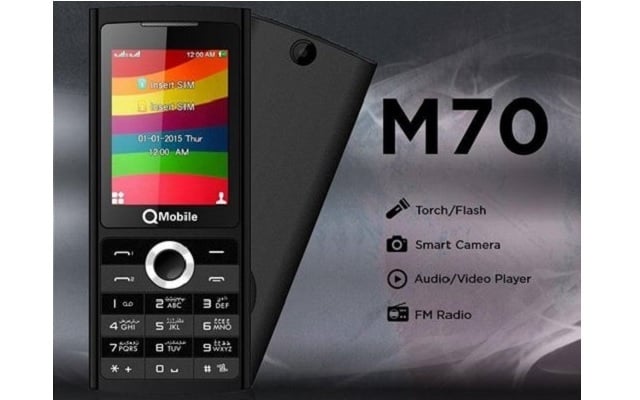 Other Specifications:
Available at just Rs. 2500
4″ QVGA Display
Smart Camera
Network Supported with GSM 900/1800
Dual SIM
Dimension: 5x51x13.9 mm
Battery:  1800 mAh
Support upto 16 GB memory
Torch, internet, MRE, Bluetooth, Audio Player, Video Player, FM Radio.
3.5 mm Ear jack,
GPRS/EDGE enabled