Warid Donates Rs. 1 Million to GCU Lahore Endowment Fund Trust
Warid Donates Rs. 1 Million to GCU Lahore Endowment Fund Trust
Continuing its support for youth education, Warid Telecom this year again donated Rs 1 million to the GCU Lahore Endowment Fund Trust (GCU EFT) for initiating a golden scholarship for financially-challenged students. It is the third consecutive year in which Warid has initiated scholarships for GCU students.
Mr. AmerAman Khan, Director Warid Telecom handed over the cheque to Prof Dr Muhammad Khaleeq-ur-Rahman Vice Chancellor at a poised ceremony held at the GCU Syndicate Committee Room. GCU EFT Executive Committee Secretary Dr Khalid Manzoor Butt was also present at the ceremony.
Prof Khaleeq-ur-Rahman
[pull_quote_center]There was a dire need that noted companies like Warid should come forward and support quality education in Pakistan. He said that the world over universities had come forward by establishing their endowment funds with the help of their old students and corporate sector. "Harvard University has an endowment fund worth billions of dollars. However, GCU was the only public sector university in Pakistan which had an active endowment fund giving scholarships to deserving students.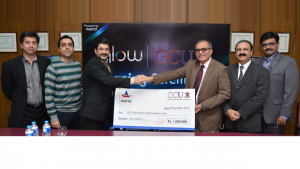 [/pull_quote_center]
Mr. AmerAman Khan said
[pull_quote_center]Our talented youth is the future of Pakistan and being a responsible corporate entity, Warid Telecom has always been at the forefront in supporting different youth initiatives. The costs of education are rising every year and collective efforts are required to help the worthy students of the society, who cannot afford their academic expenses[/pull_quote_center]
GCU is an international standard institution in Pakistan and it is a privilege to support the bright students of such an esteemed educational institution. Mr.Amer also pledged that Warid would give more donations to the GCU Endowment Fund Trust in the future, to support this great cause.