Best Aftar & Sehri Deals 2019 In Islamabad You Can't Afford To Miss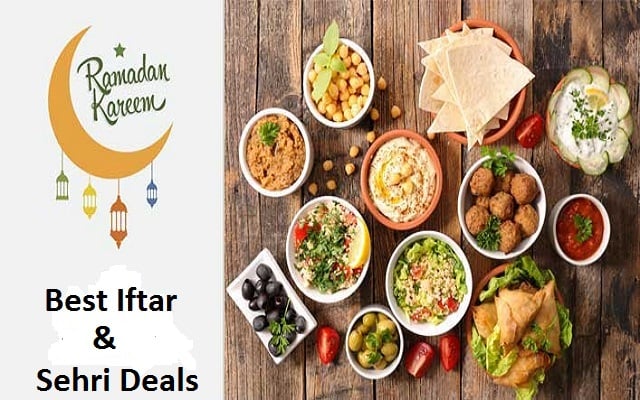 We all know that the Holy Month of Ramzan is just around the corner. In this Holy Month, Allah showers countless blessings on the people. So, let's just pray that this coming Month of Ramadhan-ul-Mubarak brings us more prosperity, faith, satisfaction and divine love for Allah. Moreover, we all know that many restaurants offer iftar and Sehri deals in Ramzan every year. So, today, I am going to jot down the Best Aftar Deals 2019 in Islamabad you can't afford to miss. Together with that, I have also shared a few Sehri Deals as well.
Best Aftar Deals Islamabad 2019 | Sehri Deals Islamabad 2019
Many restaurants of Islamabad are offering iftar and Sehri deals in Ramzan. I have jotted down some of the fine options for you people. Let's have a look at them.
La Montana
La Montana is offering Iftar + Dinner deals like they do in every Ramzan. The best part is that they are providing two menu options. You will be charged Rs 945/- + Tax if you will opt for the Menu 1. Let's have a look at the detailed Menu.
On the other hand, you will be charged Rs 1345/- + Tax if you will opt for the Menu 2. Let's have a look at the detailed Menu.
You can have Sehri at La Montana for Rs 699/- +Tax. Have a look at the Sehri Menu.
Des Pardes
Des Pardes Restaurant that is being located at the Saidpur Village is offering an Iftar Buffet at Rs 1499/-. The menu will be changed on a daily basis. Let's have a look at it.
The Monal
The Monal Restaurant is offering two different Iftar Dinner Menus. One of them contains Pakistani and continental dishes while the other contains Italian, French and Mediterranean dishes. You will be charged Rs 1695/- + Tax if you will opt for the former one while on opting the latter one, you will have to pay Rs 1795/- + tax. Let's have a look at the detailed Menus.
Furthermore, you can also have Sehri at the Monal restaurant for Rs 1095/- + Taxes.
Khiva Restaurant
Khiva Rooftop is also offering A Sehri Buffet for Rs 699/- + Tax per person. The menu includes a variet of dishes. Let's have a look at that.
Marriott Islamabad
Marriott is offering an Iftar-Dinner Buffet For Rs 3000/-. Together with that, they will let you enjoy an amazing offer. A group of five people will have to pay for four only. This offer is valid for the first ten days of Holy month.
Chayee Khana
Chayee Khana Aftari Platter will be available for Rs 599+ Tax.
BLT
BLT is also offering Iftar and Sehari deals. Let's have a look at the menu.

AURA GRANDE
Aura Grande is offering an Iftar deal providing a wide variety of dishes on its menu for Rs 1595+ Tax.

PETIT BRUGGE
You can enjoy Iftaar Platter at Petit Brugge together with a Dinner Buffet for Rs 1695+ Tax.

Chilman Restaurant
Chilman Restaurant is offering Iftar Cum Dinner Buffet Rs 1495+ Tax. The Menu for the 1st Ashra of Ramazan has been shared below.

Bhaati Gate
You can enjoy your Sehri and Aftari in Desi Style at Bhaati Gate as well.

Yogi Haus

Istanbul Restaurant

Meraki
Mei Kong
The ARZ Lebanon
Asian Wok
Lokal Cafe
So, these are some of the Iftar Deals 2019. We will update you guys with the other ones when we will get to know about more. Stay Tuned if you want to know about iftar Deals Lahore 2019 & iftar Deals Karachi 2019.