Undoubtedly Facebook has become the major source of news but many publishers complaint that they loose revenue when their stories are published on Facebook for free.
LinkedIn Lite offers a seamless and intuitive experience to LinkedIn users. 
Google Play Protect continuously works to keep your device, data and apps safe.
Ginger Page Premium is available for iOS, Android, Mac and Windows for $784. To avail life time subscription, you would have to pay $69.99.
A new wave of brand war has been observed since yesterday in Pakistan as Careem has come up with its "Rishta Aunty Service" promotion.
Google has introduced a new safety feature that will help people in case of emergency.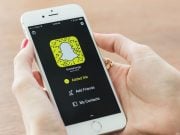 To make its app more interesting, Snapchat Adds Multi-Snap Recording and Editing Features in its App.
Facebook is expected to double its investment in data center to nearly half a billion dollars. The second building will add $250 million to the project.  
As Croatia has less roads and more islands, hence Uber has introduced UberBoat for Croatians and also to facilitate the vast number of tourists who visits this country.
YouTube is not the first streaming service to provide such feature. Many people mocked YouTube from stealing idea from somewhere else.